Google Docs In Outlook 2010
Harmonie is a small add-in from Mainsoft which originally added Google Docs in Outlook 2007 and this collaboration brought an ease for creating & sharing documents. Recently Mainsoft released the latest version of Harmonie that now supports Outlook 2010. Considering the fact that millions of users around the world recently switched from Outlook 2007 to Outlook 2010. Hormonie-Outlook 2010 conjunction will certainly enhance in collaborating, creating, and sharing Google Docs documents, making users extremely productive. Harmonie built is based on adding Google Docs features right into Outlook 2010, so you can easily add, delete, rename, share, and attach Google Docs documents on-the-go.
Once installed, Harmonie sidebar will  appear at the right side of Outlook 2010 window. You will be prompted to enter Google login credentials.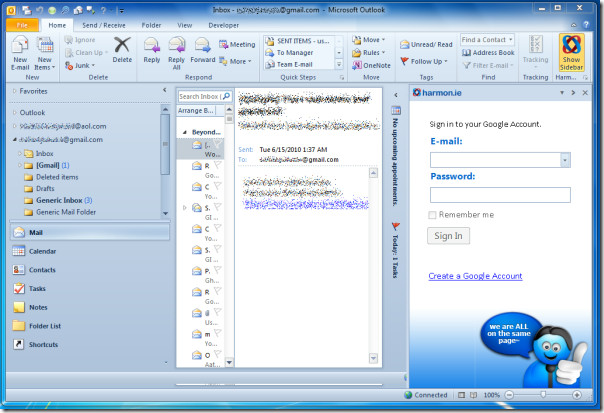 It will list down Google Docs documents in your account with all the options provided such as; upload, add, delete, rename, share, and create new document. It brings real-time searching, so you can promptly search for any specific document from the list. Double-clicking the document will open the document in main Google Docs page (opens in default web browser). To filter down the search, you can also select specific type of document (Word document, Excel spreadsheet, PowerPoint presentation, PDF, etc) from the lower part of the Harmonie sidebar.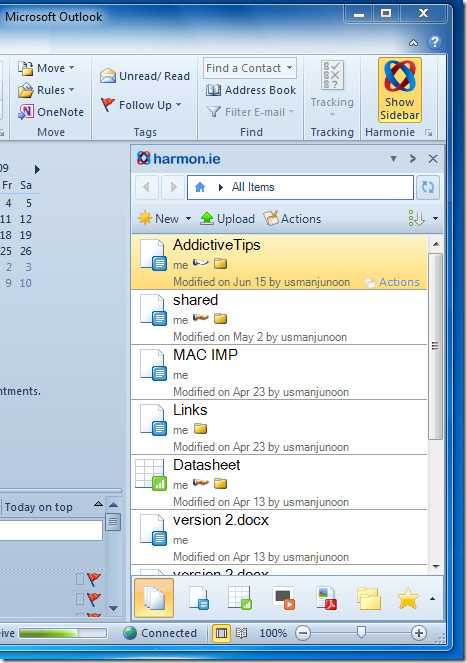 It supports drag & drop behavior which prevents user from having to manually attach the document. In mail compose window, you can easily drag the document from the sidebar into email main body to dynamically attach the file.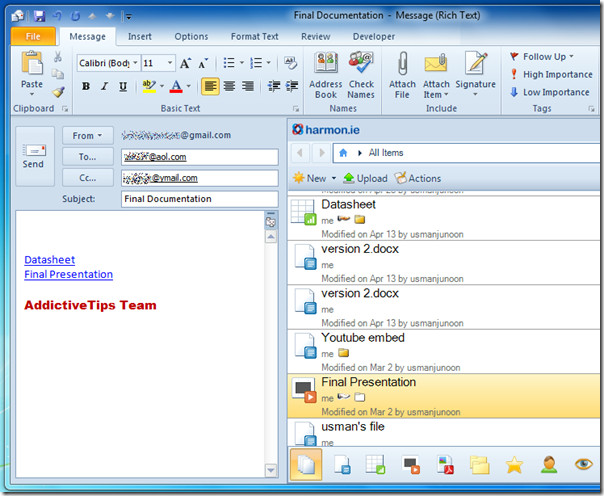 To put in a nutshell, Harmonie add-in makes sharing document with others extremely easy. Whilst checking mails, assigning tasks in Outlook 2010, etc, now with this little addition, you can easily collaborate with your peers, create, attach, and share syndicated documents on-the-fly.
We tested it with Office 2010 running on Window 7 32-bit OS.