How To Make Outlook 2010 Check Spelling Before Sending Email
Outlook 2010 has an intuitive proofreading feature which can check emails for spelling & grammar mistakes before you send them. By default this option is disabled, let's take a look at how to enable this option.
Launch Outlook 2010 and On File menu, click Options.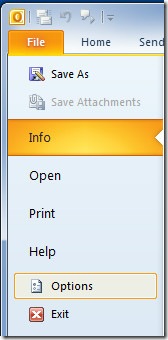 This will bring up Outlook Options dialog, from left sidebar, click Mail and from main window, under Compose messages section, enable Always Check spelling before Sending option. Click OK in Outlook Options window. Now before sending emails, Outlook will always perform a spelling check.