How To Print Gridlines In Excel 2010
If you're a heavy user of Excel, then you may know that it requires you to draw a border around the cells in order to print the cells. However, it also provides you with an option to enable printing of gridlines, so that you don't have to manually draw the border around the cells to get gridlines printed. In addition to gridlines, Excel 2010 also includes an option to print column and row headers. Enabling the print gridlines options displays the specified size on the page, allowing you to view the portion that will be printed on a single page. The Page Setup dialog includes a number of settings to further tweak the print options; you can choose to select the borders, black & white, headers and gridlines to print them, and     specify the position of the comments in the spreadsheet. 
In order to print gridlines without drawing border, head over to the Page Layout tab and from Sheet Options group, enable Print option. This will immediately draw a page border to let you know the portion of the spreadsheet that will be printed. In case, you want to configure the advance print options, open Page Setup dialog by clicking the small icon at the bottom right corner of the Sheet Options section.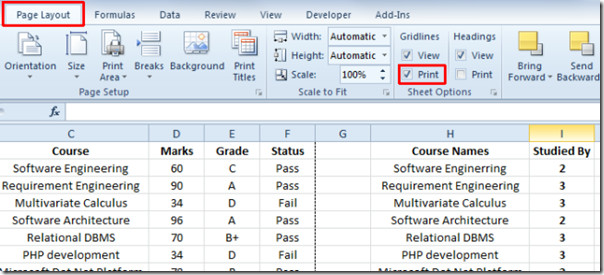 Upon click, it will open Page Setup window, allowing you to set the Print options for Gridlines, Black and white, Draft quality, row and column headings, comments etc. Here, you can also change the Page Order, and select the print area.