How To View Complete Statistics Of Word 2010 Document
Status bar at the bottom of the document window shows basic information about the document i.e Word count, Page No., Line No., etc. Word 2010 offers a detailed statistics of the document including total pages in the document, total words, characters with & without space, paragraphs, and total lines.
To view complete statistics of document including, word count, page numbers, characters count, paragraphs and lines. Navigate to Review tab, in Proofing group, click Word Count.

It will bring up Word Count dialog, showing statistics about; Pages, Words, Characters, Lines, etc.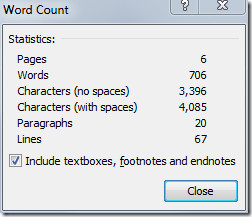 As shown above in the screenshot above, you can also include textboxes, footnotes and end notes by enabling the checkbox.