Increase Office 2010 Trial Period [Extension]
Microsoft Office 2010 trial is only valid for 30 days after which you need to activate it by purchasing the product. Office 2010 Trial Extender is a free tool that rearms the trial and increase the total days from 30 to 180. See how it works after the jump.
The rearm feature was originally developed for corporate users and this tool simply makes use of it, thus, according to the developer it is not illegal. You can rearm only 5 times which means 5 x 30, you get 150 extra days apart from the original 30 days trial. Awesome, right?
Please keep in mind that you have to rearm it on the last day to make sure you get another 30 days, and keep doing it every month until you hit 180 days, which is almost half a year. In a nutshell, each rearm will give you another 30 days.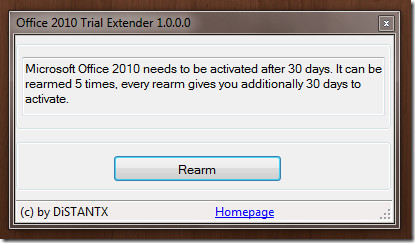 The best part is that it is a portable tool which can rearm both 32-bit and 64-bit versions of Office 2010. It works on all versions of Windows, including the latest Windows 7.
Download Office 2010 Trial Extender (If site is down, click here)