Mail Mining Adds Advanced Email Related Options In Outlook 2010
The revamped email related options in Outlook 2010 lets user easily manage their configured mailboxes, folders, schedule emails, as well as classify a set of senders into different groups, but many heavy Outlook users need some extra email management features to boost their work efficiency. Most of us find it hard to search the required item from Outlook main elements including Mail, Notes, Tasks, Calendar events etc., and for this reason, we opt in for advance data mining tools to efficiently search the items from PST files. Mail Mining is one such add-in that is created to make users more productive than ever before. It adds a slew of emails related features in Outlook while offering smart web and Outlook elements search to quickly find anything ranging from tasks, emails, appointments, to contacts. This add-in offers Smart Alerts option that lets you control when to receive emails. To stop receiving new messages, you can use the DND (Do Not Disturb) feature that stops the mail sync process for defined amount of time.
Mail Mining also brings 'Do Not Disturb' mode for Outlook to stop receiving emails or notifications for defined amount of time. This helps the user focus on their other important tasks without going offline. The Smart Alert feature lets you define a list of email types, or choose sender email addresses and contacts in order to receive only the most important email alerts. Moreover, instead of using the Outlook native Template feature, you can try MailMining Templates to quickly create, edit and send messages having more or less same context to different recipients.
After installation, launch Outlook and move to newly added Add-in tab to access Mail Mining features.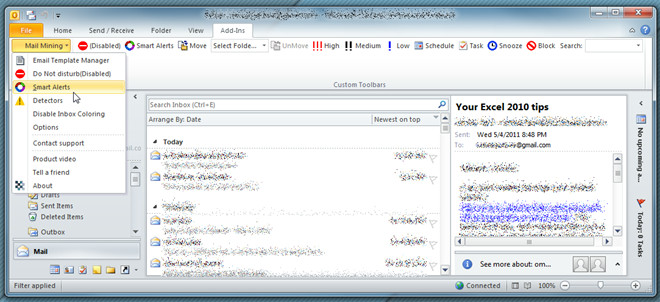 Starting off with email template manager, you can create as many templates as you want and use them while composing emails. From the Mail Mining menu, choose Email Template Manager to view all the templates. You can add new mail templates and modify and remove existing ones. Creating template requires two simple steps. Just click Add, give a name and enter template content.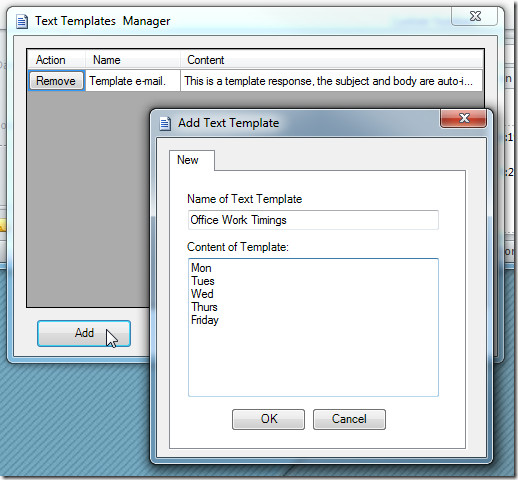 Configuring Smart Alerts is also easy. Click Smart Alerts on the ribbon, and select contacts and enter keywords for which you want to be notified in the future.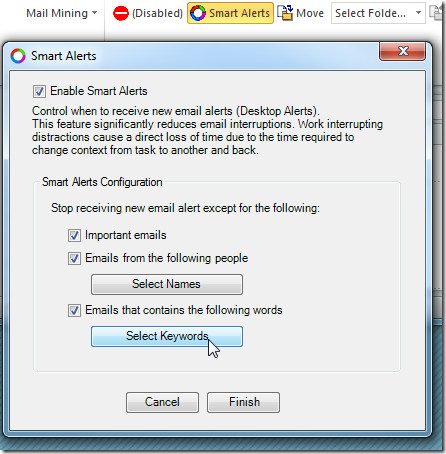 To turn on the Do Not Disturb mode, right-click its system tray icon, and select the time duration from the list to stop showing notifications and receiving email for specified time period.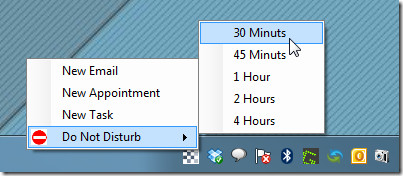 Below you can watch the video, explaining both features and usage of Mail Mining.
It works on both Outlook 2007 and Outlook 2010.
Note: Mail Mining has been discontinued. You can check out InboxEx that offers advance Mail Search and Management features.