Maintain And Schedule Outlook PST File Backups With Safe PST Backup
Outlook saves all emails, tasks, journals, calendar items in PST files for offline access, therefore their safety can't be compromised at any stage. To stay on the safe side, you should consider backing up all the PST files on regular basis. Safe PST Backup lets you maintain and schedule PST backups. It supports all Outlook versions including, Outlook 2003, Outlook 2007, and Outlook 2010. With Safe PST, backups are created incrementally, meaning that it detects the changes in original PSTs and update them accordingly in destination path. Furthermore, you won't need to specify target location each time before backing up a PST file, backups are maintained automatically.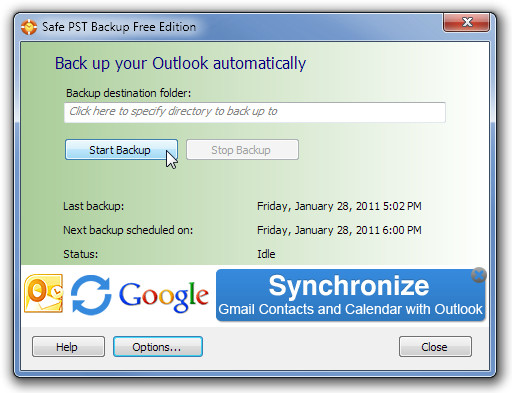 Running it for the first time prompts you to specify the target folder. Before starting backup process, click Options to select PST file and set scheduling time. In Options window, select time duration from pull-down menu followed by PST files which are to be backed up at specified intervals. Now click OK to either start backup process manually or let it create backup automatically at any user-defined time.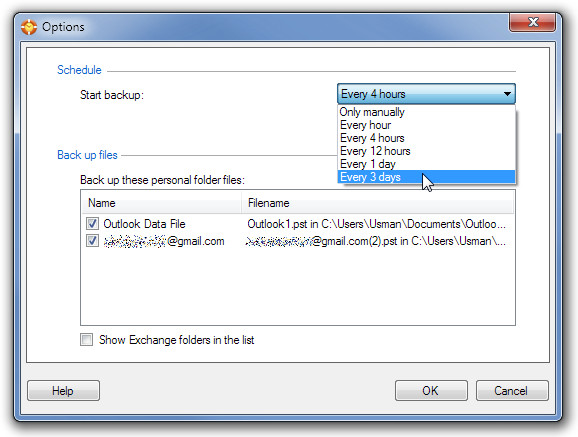 Safe PST Backup is free application with one major annoyance – ads on main interface. It is basically a stripped-down version of Safe PST Backup Enterprise Edition (paid app) which comes without any strings attached. Testing was done with Outlook 2010 running on Windows 7 x64 system.