Manage Advance Outlook 2010 Mail Search & Schedule Tasks With InboxEx
InboxEx is a powerful add-in for both Outlook 2007 and Outlook 2010, which is geared toward those who perform numerous basic and advance Outlook tasks, such as schedule meetings, search mails, set appointments, add and sync events between Outlook and Google Calendar, share calendar events with others, etc., on daily basis. InboxEx is designed to help users manage their office emails and reply them in timely manner. Since Outlook 2010 native search feature requires all mailboxes to be indexed for initiating thorough search, it may become quite wearisome task to find important messages and then filter them by different message elements. InboxEx provides an efficient search feature that lets you filter search results for search keyword by name, subject, sender, recipient with options to quickly navigate between search result pages.
With InboxEx, you can schedule meetings and conference calls within minutes without having to import meeting schedule email/conversation template. It comes with pre-filled meeting and conference information forms to easily add all the required data and details. Furthermore, it adds an extra layer of archiving events, meetings and mails. You can quickly send old messages, events, etc to archive to view only most recent items.  Apart from syncing Outlook calendar with Google Calendar, it lets you share scheduled events with anyone via email.
Before installing InboxEx, make sure that Outlook is not running in background. Now launch Outlook and from InboxEx pane add Gmail account. After you've entered login details, enable Synchronize calendar with Google and click OK to begin synchronizing your InboxEx data with Google account.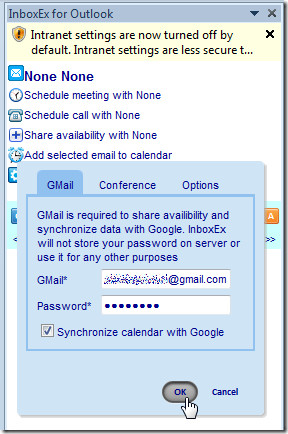 Once added, you can perform search within added account folders, events and scheduled meetings. To filter search results by subject, body text, sender, type, data and attachments, use the respective links present below the search bar.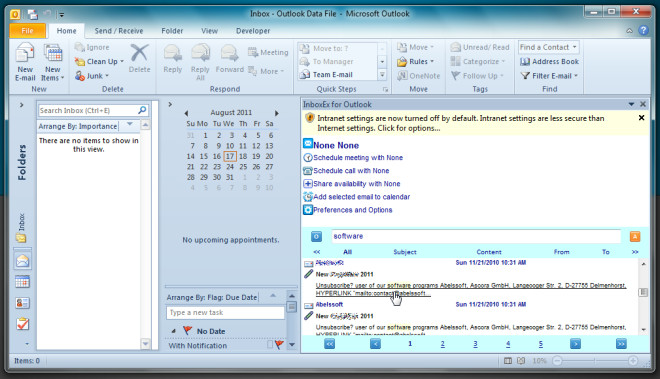 Scheduling meetings and conferences is easy. Just select Schedule call with None option, enter the required data with recipient name and click Send.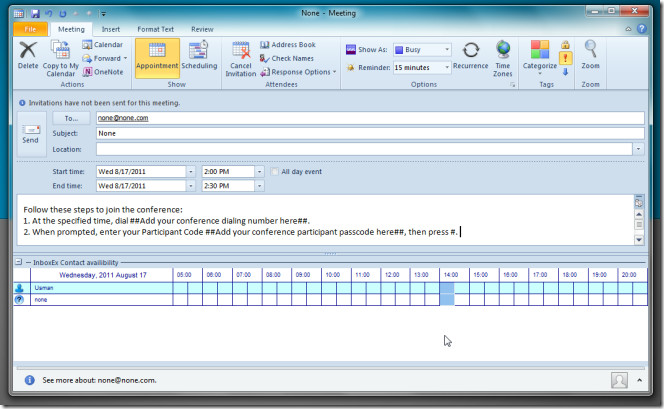 The conference call scheduling option is available underneath the Schedule meeting with None. Before you add details, make sure that you've already entered Dialin Number and passcode in Conference window accessible from Preferences. InboxEx brings an easy way to archive mails. From Options window, you can specify number of weeks after which old emails will automatically be moved to archive folder.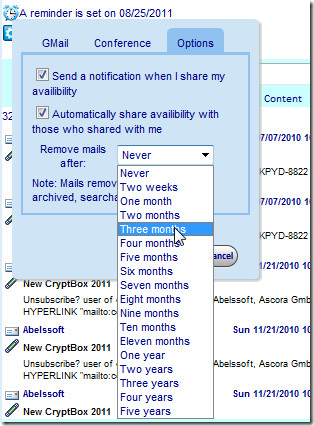 InboxEx is handy tool for those users who work with multiple teams and need to collaborate on group work, share availability and events with others, search important emails and schedule meetings and conferences. We tested InboxEx on Windows 7 (64-bit) running Outlook 2010.