Manage Documents In Windows Live SkyDrive From MS Office 2010 / 2007
Office Live Files is a handy add-in for MS Office suite applications allowing users to manage documents saved in Windows Live SkyDrive. The add-in is primarily developed for online documents management supporting all Office versions ranging from Office 2000 to latest Office 2010.
The developer claims that add-in has been thoroughly tested in Office 2000/2003/2007/2010, therefore, no matter which office version you're using, you can access and manage your online documents right from the Office Live Files tab. Moreover, it lets you organize, upload, and download documents from SkyDrive on the fly. Even though Office 2010 users already have SkyDrive integrated in Word, PowerPoint, Excel, this add-in offers better navigability for searching documents along with extra features for Office 2010 users to manage their document with great ease.
If you are using Office 2000/2003, you can find it in add-in menu. However, if you have Office 2007/2010, you will see a new tab in Word, Excel and in PowerPoint by the name of Office Live files. To start, head over to its tab and click Office Live Files. For the first time usage, it will prompt you to enter Windows Live credentials. Once verified, you wont need to enter login information again to access your Windows SkyDrive account.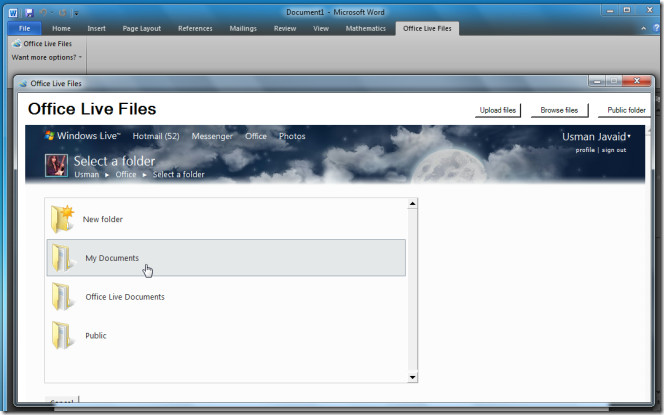 It lists down all your public and private folders, allowing you to open any existing document, or create new documents and upload them without any hassle involved. You will find Public folder, Browse files, and Upload files (via drag & drop) in the top right corner of the Office Live Files window.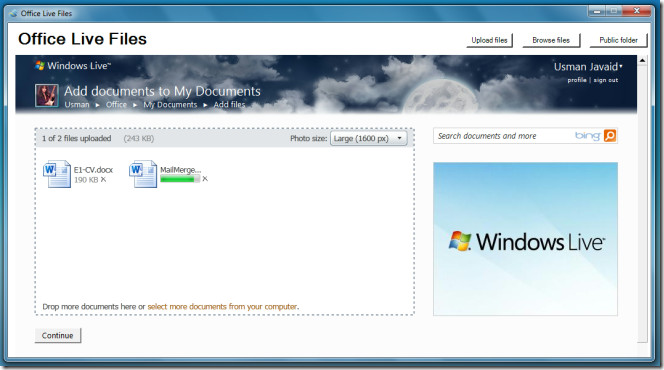 We have tested this add-in with Office 2010 running on Windows 7 x86 system. It supports all versions of MS Office provided you have .Net Framework 2.0 or higher installed.