Outlook 2010: How To Always Compose Message In Plain Text
HTML based email may contain malwares, spywares and are vulnerable to many types of threats. So it is recommended to always compose and read emails in plain text. This post covers how to always compose emails in plain text.
To begin, on File menu, click Options.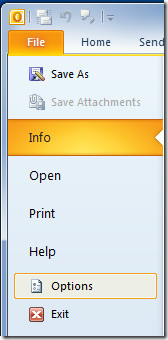 This will bring up Outlook Options dialog, from left sidebar, select Mail and from main window, under Compose message section, change an option for Compose messages in this format to Plain Text as shown below. Click OK to continue. Now Outlook will always compose mail in plain-text format