Record Audio In PowerPoint 2010 Presentation
Apart from inserting an audio file from external location or add a ClipArt audio, you can also record an audio clip/voice in PowerPoint 2010 presentation. Lets see how to start recording audio.
To record Audio in presentation slide, navigate to Insert tab and from Media group, under Audio options, click Record Audio.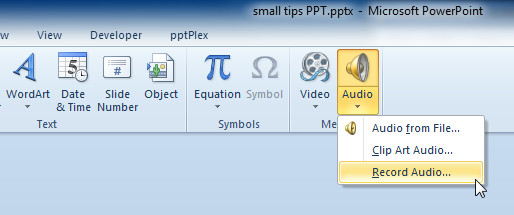 A small dialog will appear, now click Record button to start recording audio.Once done, click Stop button followed by OK to insert the recorded clip into the slide.