Troubleshoot Office Add-ins With AddInSpy
Throughout the SRLC (Software Release Life Cycle) process of MS Office, Microsoft development team & other third parties begin creating small utilities for providing extra features to complement the official product. These add-ins helps get work done in easier way along with providing either missed out or advance functionality, if you are a power user of MS Office you might have came across hundreds of add-ins for different Office applications. Despite the fact that they provide extra utility, they can also contains code-anomalies and compatibility problems, thus eventually causing app crash, halt or lagging.
It may become irksome sometimes to find out the DLL or library file due to which add-in prevents application to start properly, or cause program halt, and so on. As Office native User Interface is unable to give out complete details and never reports the genuine problem, AddInSpy may come helpful for this sole purpose.
Rather than a tool, it's more like a package from Microsoft containing AddInSpy & AS (Add-in Scan), for facilitating developers and users concurrently. As name implies, it looks for installed Add-ins in Office applications and populate the list carrying detailed information in multiple columns.
It's usage is pretty straightforward, launch AddInSpy and from Hosts list, enable Office applications' checkboxes for which you need to inspect installed add-ins.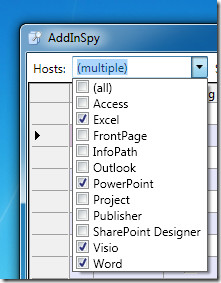 Click Refresh to start the add-in scan, it will start populating the list, which holds multitude of add-in-relevant information such as;
Host (running or loaded)
Type (VSTO, managed, non-VSTO [Visual Studio Tools for Office])
ProgID (Program ID)
CLSID (Class Identifier Version),
Manifest (info about manifest Visual Studio Tools for Office),
DLL Path,
RegHive,
CLR (Add-in Common Language Runtime version),
Interface.
VSTOR.
You can also use Scan combo-box to filter down the scan results. Just check/uncheck the respective scan options in the list to filter the scan result.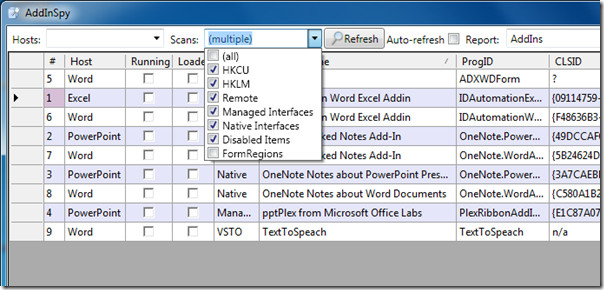 The list is spread out wide across the screen, find out OK field in the list and check for specific add-in status in column, that if it is working/running properly or not.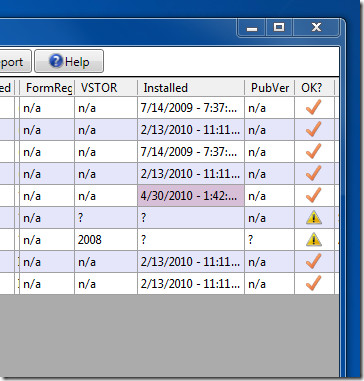 You can exclusively check add-in having OK status with warning sign by double clicking the add-in record. This will show all the information packed in columns in it's exclusive dialog.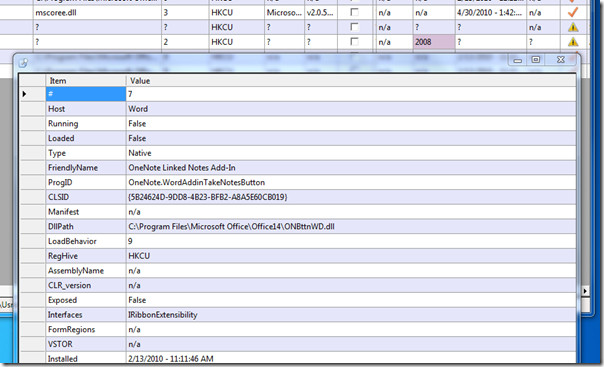 We consider it as a great find, as it provides the complete report on problems users can face while using an Office add-in. It runs on Windows XP, Windows Vista, and Windows 7. Testing was done on Windows 7 system (32-bit) running Office 2010 (32-bit).