Schedule Backup Of Outlook PST File With Backup my mail
Since Outlook saves all data, including emails, appointments, calendars, tasks, journals and other items in PST and OST files, it's recommended to backup PST and OST on regular basis since it helps restore all Outlook user data back when it suddenly crashes or stops responding. Backup my mail is an Outlook backup tool which uses hobocopy at backend to create Outlook PST backups at scheduled intervals. The hobocopy is Console based tool which makes use of Windows VSS (Volume Shadow Service) to silently perform file backup operations. Unlike previously covered Safe PST Backup (ad-supported), Backup my mail can start backup operation at any day and then follow the user-defined routine for creating Outlook data backups after specified time intervals. You can also choose to follow linear backup approach to create backups after every x number of hours.
When launched for the first time, it asks you to specify the path to Backup folder followed by Outlook profile permissions, including username and password. You can instantly start your first Outlook data backup operation or set backup schedule settings to perform it later.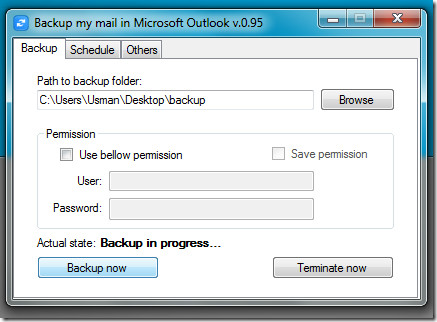 Backup my mail operates from the system tray. When you click Show Window, it brings up the last opened tab. Under Schedule, you can set the Start date and Start Time to specify the date and time when backup jobs are to be performed. The Repeat section lets you set the options for creating regular backups. You can choose to repeat backup jobs after every defined number of hours, days, or weeks.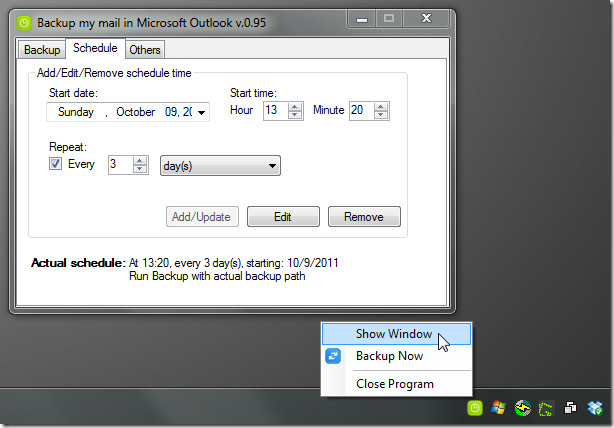 Once done, click Add/Update to schedule the backup task. In Others tab, you can to set additional backup settings, such as, include/exclude timestamp to backed up PST file title, load application on Windows start up, shutdown windows after performing the backup job, etc.
After the backup job is complete, it's advised to verify the backed up PST files.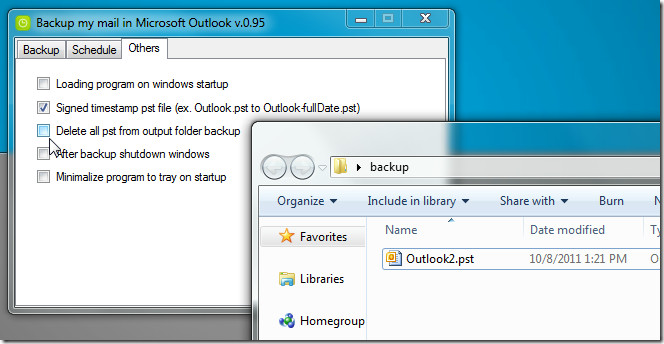 Backup my mail is an open source application that works with both Outlook 2007 and Outlook 2010.