Search Information Across All Related Items In Outlook 2010 With Meshin Add-in
Meshin is a semantic Outlook search sidebar (add-in) which is developed to address the core concern of users before they begin searching for particular data/information, e.g, finding all the relevant information against the search keyword including the conversations & people involved and attachments shared.
The developer believes that such information is spread wide across the Outlook items, such as mails, tasks, conversations, and contacts, thus users have no other choice then to use one dedicated plug-in which is intuitive enough to mark out and find all the important data out of different Outlook elements. On the defined characteristic, Meshin shrewdly discovers, connects, and organizes information across all the specified locations.
Additionally, it has an ability to connect different kinds of information together, you don't need to go around all of your items manually to seek out any relevant information. The mechanism it uses is smart enough to join scattered pieces of information under one window. Furthermore, it comes with build-in support for Facebook and LinkedIn account, so users can stay connected and keep tab on profiles at all times.
For first time usage, it will take some time to index important locations, which is subjected to the amount of items saved in your Outlook profile. Once indexed, you can begin searching items along with their relevant information. Just enter the keywords in search bar to view the results with all the connected items like; sender, conversations, contacts, and message body. All the attachments, related messages and people connected with the selected message are also displayed in this sidebar.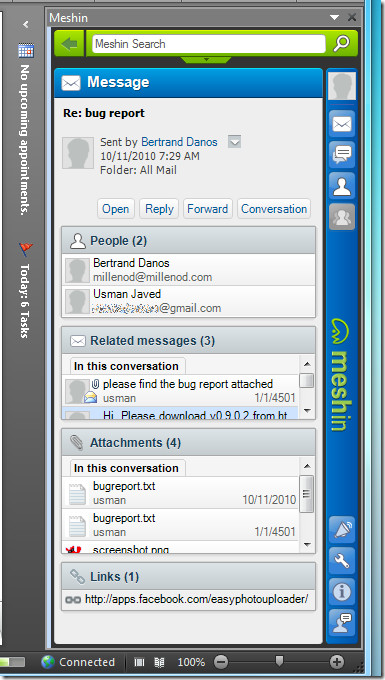 The pull-down menu of search bar allows user to drag & drop any message from indexed locations to find out the messages, peoples and profiles connected with it. Click the drop down button and drag any message from mail folder over it to display all the information accordingly. It is recommended to mark out the important locations to be indexed.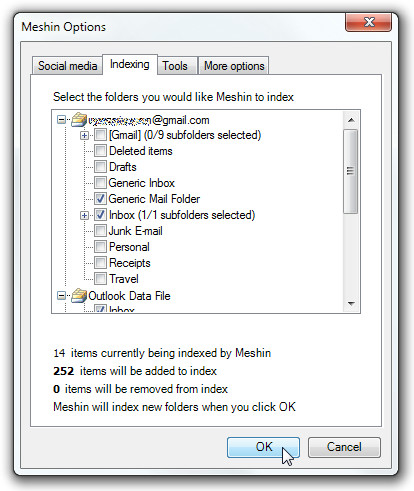 Before connecting with Facebook and LinkedIn profiles, you would need to configure each account from Settings.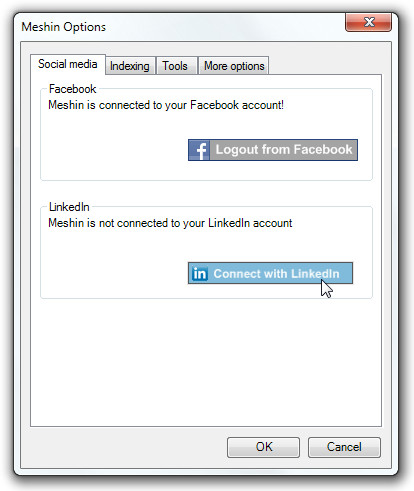 Under Tools tab, you can find item by Entry ID which is responsible for finding out email message or folder using the respective Entry ID. It also lets you create dump thread log report to view all the associated threads that are being active. It supports Outlook 2007 and Outlook 2010. Testing was carried out with Outlook 2010 running on Windows 7 x86 system.
If you're looking for a simple and straight-forward search Outlook search plug-in, also check out previously covered Lookeen and Xobni.