Search Outlook 2010 Items And Files With Xobni
Searching and connectivity became effortless with Xobni add-in for Outlook 2007. Outlook 2010, however, is still in beta but this hasn't stopped Xobni to come up with compatible add-in for it. Xobni is an add-in which is primarily used for searching outlook items; emails, calendar, appointments, events, attachments, contacts, etc. The most loved feature however is the real-time accurate search, which is far more robust compared to the build-in Outlook default search functionality. Adding more, you can also manage social networking accounts such as Facebook, LinkedIn, Twitter, etc right from the sidebar.
Upon first time launch it will take few minutes to index all Outlook items ranging from calendar, appointments, events, attachments, files, folders, emails and list goes on. It has an intrinsic quality to search out specified keyword rapidly and with prompt precision. Just start feeding it with search keywords and you will see the results instantly, in real-time.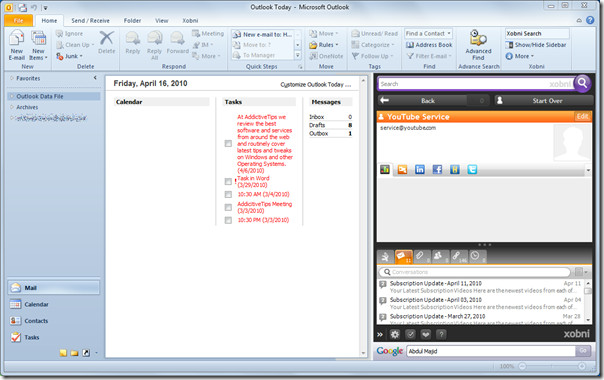 It divides the search in different sections; People, Messages, Files Exchanged (attachments) and Appointments, Tasks and Links. The latter is only available in Pro (Plus) version.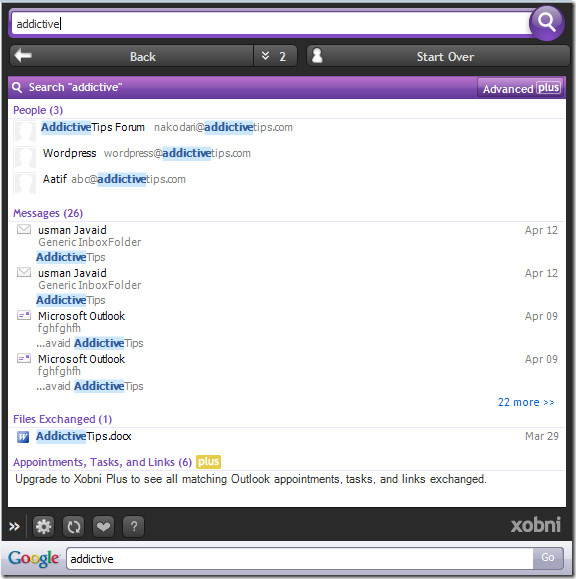 It supports extensions, allowing easier searching of documents, files, and attachments. For e.g, entering .docx extension will list all Word 2007-2010 documents.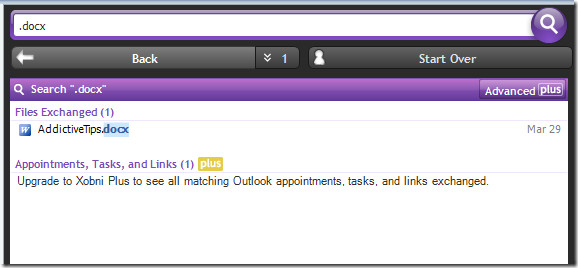 Apart from mere searching tool, it also allow users to stay up to date with social networking sites, such as, Twitter, Facebook, Hoover and LinkedIn.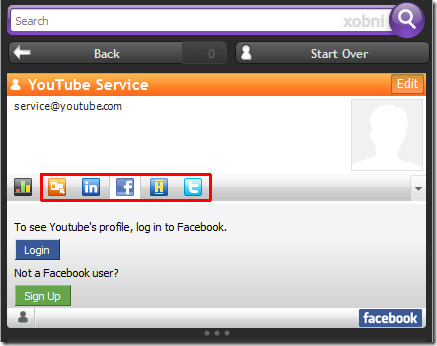 It provides an excellent way to keep tab of all previous activities. Click Statistics button to view stats of all items. Underneath statistics window, navigate through different tabs; Summary, Conversations, Files Exchanged, YouTube Network, Links and Appointments, by clicking their respective buttons. Another prominent feature is that you can perform a web search from Google search pane at the bottom.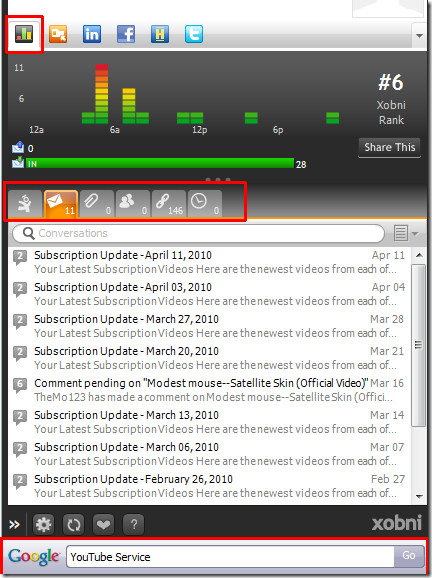 For configuring more options, navigate to Home tab and from More click Options.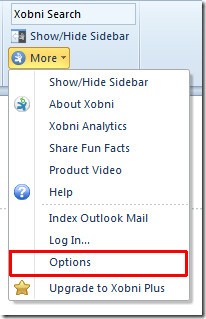 Under General tab, you will see several options for configuring generic settings. From here you can control Xobni start up either with Outlook or manual start-up.  Under Profile panels You can change different interface options; Use Tabbed Interface, show Network, Show Files Exchanged etc.
Now switch to Integration tab, where you can enable yahoo mail search by clicking Enable button. Under Extensions section, you can enable/disable, and rearrange integrated extensions; Facebook, Linked etc. From Other settings you can configure advance IDE options for Skype accounts, Google Search bar, etc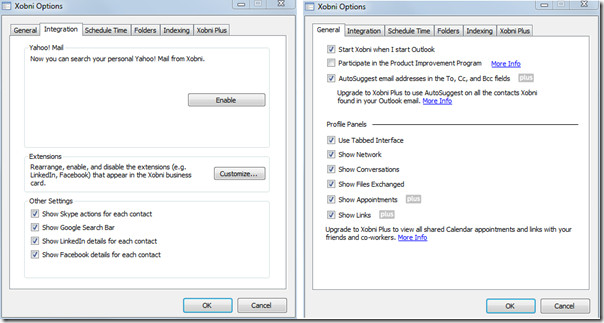 Switch to Schedule Time tab to customize different scheduling options. Here you can select days for scheduling, schedule meetings & events and change time format.
Under Indexing tab, you can set day/time for indexing schedule and change indexing performance setting according to your system configuration.
It works on Windows XP, Windows Vista, and Windows 7. We tested the add-in on Outlook 2010 running on Windows 7 32-bit system.