Send Outlook 2010 Calendar via Email
Unlike its antecedents, Outlook 2010 provides a very simple way to send calendar to the recipients via email. Through this feature you can send your weekly, monthly or even yearly appointments, events, and meetings schedule to the desired email addresses. This feature could be very useful especially when you need to give out complete schedule to concerned people.
To start off with, launch Outlook 2010 and click on Calendar on the left sidebar.

You will reach Outlook Calendar dialog, from left sidebar select the date for which you want to add an appointment, meeting etc and from the right sidebar specify the time for the appointment.
Now add as many appointments as you want to send via email, once added then navigate to Home tab and click E-mail Calendar.

Upon click, it will bring-up Send a Calendar via E-mail dialog. From Data Range select an appropriate range of days, From Detail options, select Full details, under Advanced you can also filter-down more information, from E-mail Layout options select List of events. Click OK to continue.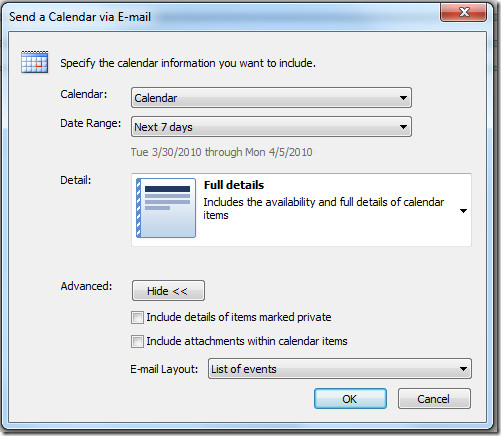 You will reach Outlook Mail dialog, you will see all the details of events, along with calendar in the Mail compose window.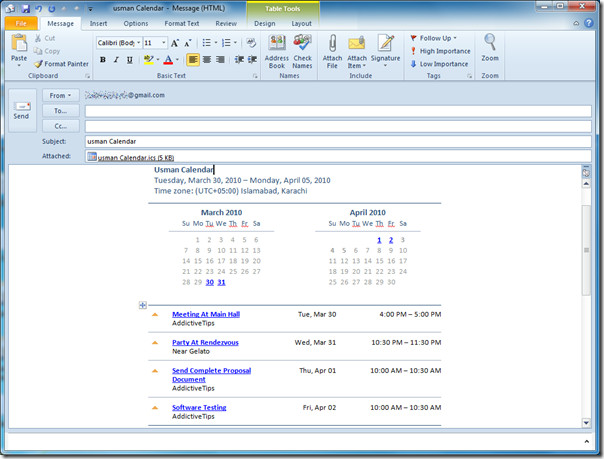 Upon clicking on link, it will immediately show complete details of specified event, meeting, etc.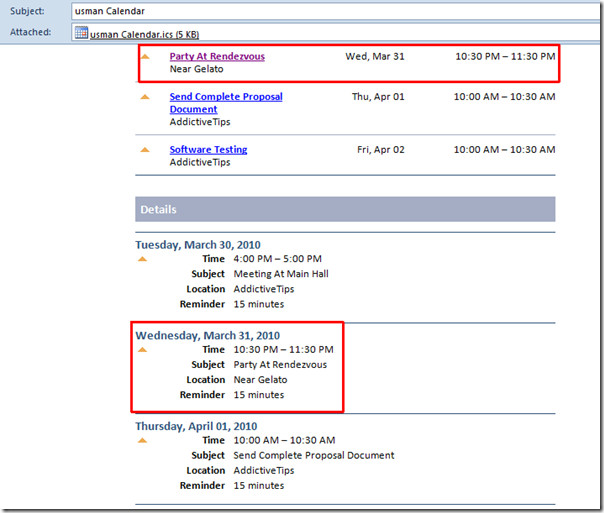 For more, also check out our guides on Recovering Deleted Emails and Removing Outlook 2010 Duplicate Items.