Word 2010: Research Feature
When it comes to creating, editing, and charting documents, Microsoft Word always stands-out among the word processors available out there, but there are many features in Word which we have over-looked for no good reason, Word Research is one of them. While writing documents in Word, sometimes we need to look-up certain, terms, phrases, concepts, etc to complement our document content, for this we usually start searching on web, rather than using this awesome intrinsic feature.
The Research feature allows you to look-up anything you want under it's own window. You don't need to go somewhere else for viewing extra articulation over desired document content. It has certainly begotten the new dimension of researching terms, words, concepts, etc. It mainly includes predominant services for research purposes; Encarta, Bing, HighBeam etc.
To start off with, launch Word 2010 and open a document on which you want to do research on desired topic. Now navigate to Review tab and click Research, as shown in the screenshot below.

Upon click, Research pane will open up on the right sidebar providing plenty of options. Click drop-down button and select any option to start your search with, there are three categories in total; All reference Books, All Research Sites, and All Business and Financial Sites. Under each category you will find multiple highly-preferred sites that you can use for research purposes.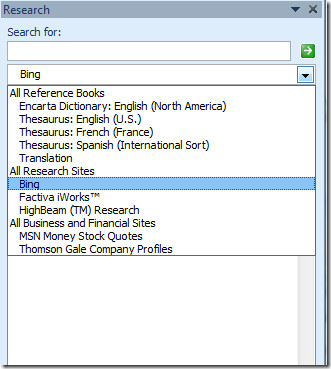 For instance, if you want to look up a word in Encarta dictionary or translate word into other language then you just need to select the respective options and provide a search keyword.
While writing, we need to look-up for the corresponding word for Understanding in French, for this we will provide it with search keyword. From drop down options, select Translation, and simply hit Enter on keyboard. Under Translation box, choose the language you want to translate to.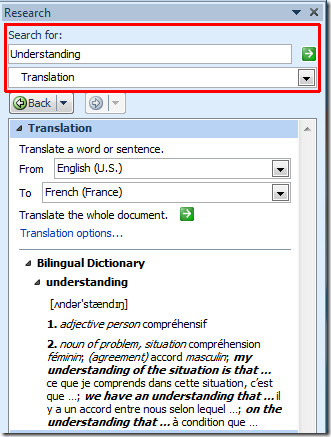 Now if we want to check the particular word, term, or phrase in a specific category, select the category, and hit enter. It will show all the results from underlying sub-categories.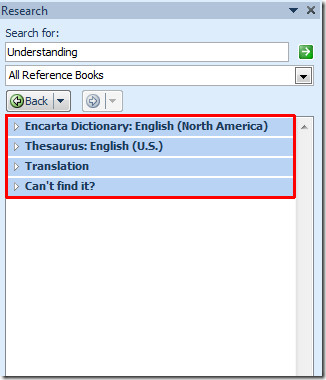 Upon extending a specific sub-category, it will show the details of the search keyword. As you can see that we have extended sub-category Encarta Dictionary.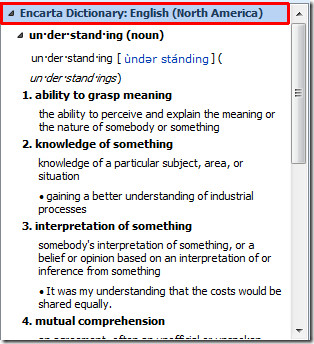 Just choose another category, Research Sites from the list and check the results, we will be searching keyword for any relevance from HighBeam Research.
If at any point of time you want to navigate through the search results, from Back options, click on desired one.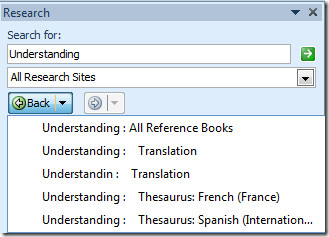 For filtering Search results you can always go to Research options at the bottom of the Research pane.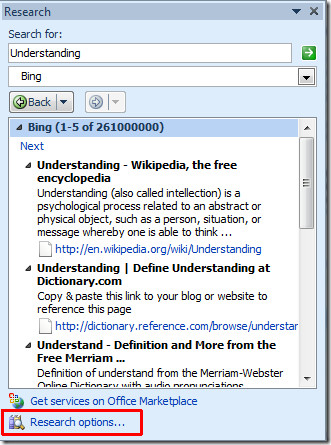 Upon click, it will bring-up Research Options dialog, you can add new services for research purposes, just enable the desired service, and click OK. If you want to prevent minors from any explicit content, you can apply a Parental lock by clicking parental Control button at the bottom of the dialog. For adding any service to be used for research, Click Add Services.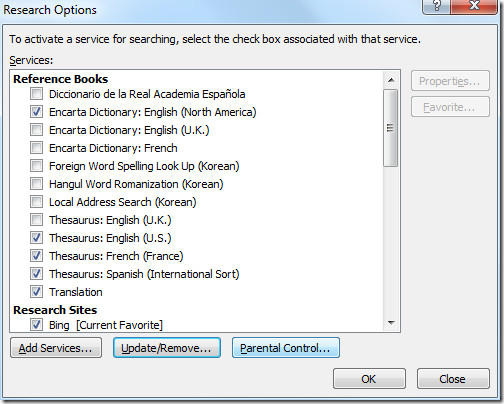 Upon click on Parental Control, you will reach the main dialog where you can enable both options and just enter a passphrase to prevent searching for keywords that leads to any explicit content.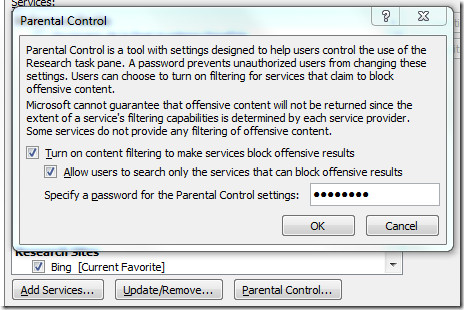 For acquiring more services, click Get services on the Office Marketplace.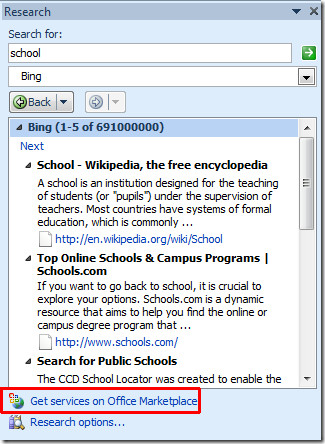 It will open up Microsoft services webpage, so you can add more services.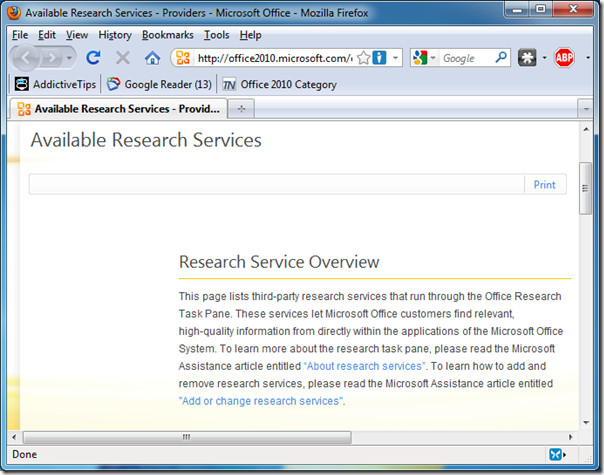 You can also check out previously reviewed guides on Using Mathematics Equation in Word 2010 & How to Add Dictionary in Word 2010.