3D Compass+ Is An Augmented Reality Navigation App For Android
Are you heading in the right direction? Well, at least geographically you should be, because 3D Compass+ is here to help you. 3D Compass+ (AR Compass) is an interactive and extremely useful navigation app for your Android that, with a customizable augmented reality view, allows you to locate your destination without looking up from your device. With detailed on-screen navigation features, map info, multi-layer support, one-tap screen capture and map calibration, multiple 3D compasses (Marine and Rose) and fully customizable compass/map features, 3D Compass+ is definitely a must-have tool for all your travel ventures and outdoor activities.
With 3D Compass+ you always have the most sought-after navigation features displayed on your screen that can help travelling much easier. While on-screen map, compass, address and navigation-based info is there to help you trace your route in a better (and right) way, interactive on-screen features such as screenshot capture, auto-brightness, map zoom in/out and rotation option support said cause quite effectively by providing hands-on navigation tools.
The app supports dual-pane display for both landscape as well as portrait orientation with an option to enable/disable on-screen map. The app also allows manual rotation of compass and lets you set distance units as per convenience. Plus, you can also zoom in/out on the map with pinch gesture and adjust the map to have a good look at nearby locations.
Currently, the app supports a couple of map layers: Satellite and Traffic. With GPS enabled on your device, you can set the app to display speed and true north on the map as well.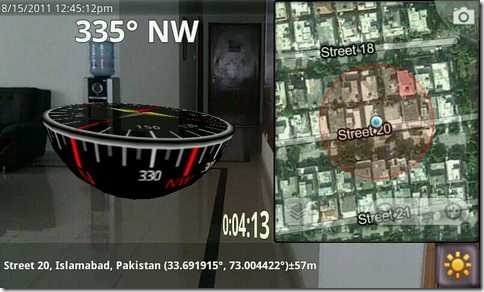 While outdoors, you can easily toggle the auto-brightness option with a simple tap on the button. There is also a screenshot capture button that can be tapped at any instant to take a snapshot of your location. Customizable screenshot options let you embed date, time and location Exif tags in the captured image file. You can also share your location with your online buddies from within the app.
To cut it short, 3D Compass+ is your travel companion for difficult times as it makes sure that you do not go astray while looking to locate a destination unknown. 3D Compass+ (AR Compass) is available in the Android Market free of cost and requires Android OS 2.2 or higher to run. You can download 3D Compass+ (AR Compass) from the Market link provided at the end.
Download 3D Compass+ (AR Compass) for Android