7Notes Brings Handwritten Notes & Doodling To iPhone & iPad
You might have heard about the Chinese teacher who made it compulsory for students to have an iPad in order to attend his lectures. While this might be taking things to an extreme, the truth of the matter is that an iPad really is a perfect tool for schools and teaching. It's about the size of an ordinary book (and weighs less than one) and there are a number of educational apps available at the App Store which might be helpful for any student. 7Notes is an addition to such apps, and brings quick note-taking to your iOS device.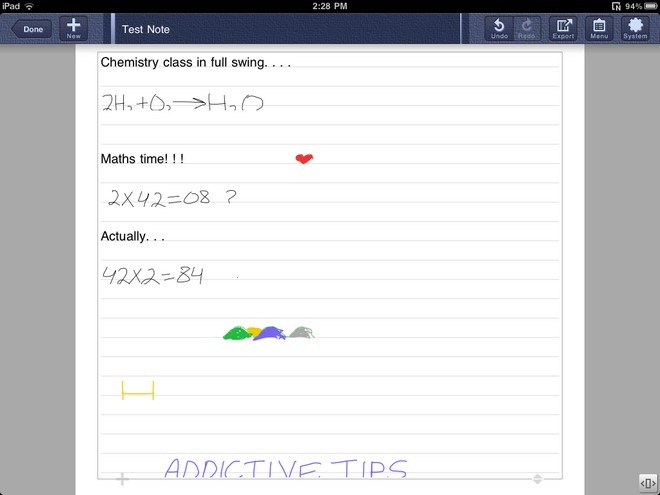 7Notes has a free as well as paid version (costing $8.99). The premium version comes with just one added functionality (albeit a really awesome one). It can convert your handwritten text to actual text! However, if you can live without that, the lite version is pretty good too.
This app comes with the basic concept of integrating text and drawn input and using them simultaneously in one document (as you can see in the screenshot above). For drawing purposes, you can choose from among any of the 6 provided colors. The text can also be formatted from the Menu tab located at the top of the screen.
There are separate apps out there for creating PDF files from your typed documents, however, in 7Notes, this is a built-in feature. After you have created your note, you can make full use of the app's sharing options (which include integration with Facebook & Twitter) or you can just mail the file to yourself after saving it in the format of your choice.
Even if you are not a student, the app is really fun to have (not to mention very useful), so head over to the App Store and give it a try.
Download 7Notes HD Premium for iPad
Download 7Notes Premium for iPhone
Update: The free iPhone version of 7Notes now supports automatic adjustment of scroll bar's width and placement. You can also choose custom backgrounds for your notes that can even be in tiled formats. You also get Evernote integration with the latest update of the pro version of the app, along with changes in control options and app interface. The iPad version of 7Notes, apart from all the changes discussed above, has been made retina optimized for the new iPad.