Activate FaceTime On iPhone 4 With FaceTime Hacktivator In Middle East
FaceTime is one of the best features introduced by Apple in iOS 4. It allows you to have video conversations with other FaceTime users over WiFi. However, if you reside in a country where the FaceTime service is not available yet or is being blocked, it's obviously useless to you, isn't it? Not anymore, as we've got some great news for you in this regard. If your iPhone 4 is jailbroken, we have found a little hack for you that will allow you to enjoy FaceTime in countries where the service isn't being allowed by the governments or Apple. Many of the countries in the Middle East have barred this video chat application owing to their ridiculous authoritative leaderships, and this hack should allow you to bypass such fanatic restrictions. Read on for the complete instructions.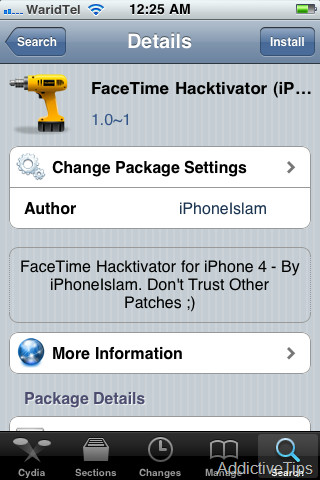 Before we begin, let's make one thing clear. All we can tell you is how to activate FaceTime in such regions and we really don't know if you will end up in trouble with local cyber monitoring authorities for using Facetime, so you should perform it entirely at your own risk.
This activation hack is basically a Cydia tweak. Therefore, in order to activate Facetime on your iPhone 4, you will need to jailbreak your phone first on iOS 4.1 using Greenpois0n or Limera1n if you haven't already done so.
Already jailbroken your iPhone 4? Here are the instructions to get FaceTime up and running on your phone anywhere in the world.
The first step is to launch Cydia.
In Cydia, go to 'Manage' and and tap 'Sources'. We will now be adding the repo source to install this Cydia tweak from.
To add the repo source, tap the 'Edit' button and add following repo: https://apps.iphoneislam.com
Wait patiently while the repo is added to the sources.
Next, go to the search bar in Cydia and type 'FaceTime Hacktivator'.
Select the first result and tap 'Insta".
Once the installation is complete, restart your iPhone 4.
After the phone restarts, go to Settings > Phone. You should see a Facetime On/Off toggle added there.
Now simply turn that toggle On and there you go! You now have FaceTime activated on your phone.
While many have been using this hack to use FaceTime service in the middle eastern countries where it is being blocked, we would again like to stress that you should use it at your own risk. For perfect safety, using a VPN service might be a good idea in such regions as well.