Add Connectivity Shortcuts To Windows Phone Mango Start Screen
Just the other day, I was thinking that why there isn't a toggle or shortcut on my Samsung Omnia 7's Start screen that allows me to turn Wi-Fi on and off without having to go through the trouble of navigating all the way to the Settings menu and then to the connectivity options. Common sense demands that there should be some way to take advantage of the metro interface of Windows Phone 7. Luckily, users like me who have already switched to Mango don't have to fight against our laziness anymore. ConnectivityShortcuts is a free app that lets you accomplish exactly what is described above.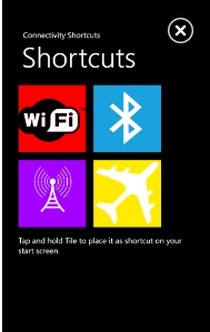 The app performs the simple task of creating, as its name suggests, connectivity shortcuts and placing them on your phone's start screen. Like most apps rolling out these days, this app is only available for the Mango version of the OS. The four connectivity options handled by this app are:
Wi-Fi
Bluetooth
Cellular Settings
Airplane Mode
Just long press any of the four icons in the app and its live tile will be created. Short pressing it will take you to the desired settings menu. It would've been cooler if  Microsoft had given some thought to this themselves and added the buttons in, let's say, the volume bar. But as things stand right now, ConnectivityShortcuts is the best solution we have available for now, and to be fair, it does get the job done pretty neatly.
If you are on Mango, and would like to take this useful little app for a spin, grab it from the download link given below.
Download ConnectivityShortcuts