Add Lively Animations & Videos To Your Android Notifications With Pops
Ever thought of adding a bit of (in fact lots of) spice and life to your Android alerts and notifications? How about getting notified for your texts or mails through customized on-screen animations and brand new notification icon? Pops is an Android app that lets you receive custom notification alerts for your SMS, Gmail, Facebook and Twitter in the form of lively animations and custom images/videos after screen timeout. With Pops, it's time to shed monotonous Android notifications and experience a brand new way of receiving on-screen alerts through a visually rich UI and built-in animations.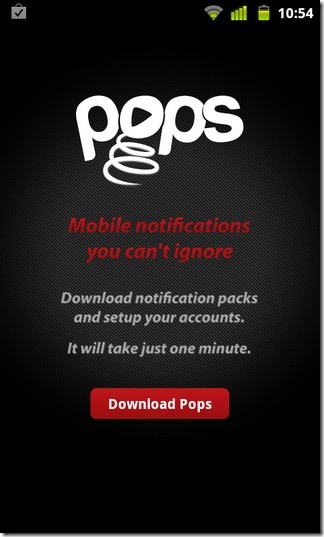 Pops takes your Android customization to new heights and lets you to define exciting ways of receiving personalized message alerts and notification on your device. Right from the visually appealing interface to its usability, the app is filled with colors and excitement. Once installed, the app prompts you to download notification packs and setup all the aforementioned accounts to receive unique Pops notifications for each. Swipe left/right on the packs screen to select your preferred animation.
Pops provides you with more than 80 different built-in/downloadable animations to select for your customized notifications while also enabling you to create your own custom picture/video notifications. Use an image from your device or capture a fresh image to create personalized Pops notification. The app lets you preview and download the animations of your choice. You can also share the best animation packs with your Facebook friends from within the app.
Another useful feature of Pops is that all your notifications for aforementioned services are saved in a universal inbox. You can configure this inbox to display notifications according to filtered logs to easily access and reply to notifications from a particular service with just a few taps. You can also freeze Pops for a specific duration in case you are busy attending a seminar or taking your lectures.
Upon receiving a notification, you can access multiple features from the 4-way navigational pad on this screen. For instance, you can unlock your screen to view notification, hide the notifications page, invite the sender to Pops, adjust Pops settings for received notifications and set freeze time. However, it must be remembered that Pops animations only play when the screen is not active.
To see the app in action, check out the video provided below. Pops is available in the Android Market free of cost and is compatible with Android OS 2.0 or higher.
Download Pops