Add Photo Effects And Make Photo Collages On Android With PicsIn Photo
PicsIn Photo, formerly known as Photoid, is a free photo editor for all versions of the Android OS. The revamped freeware hit the Android Market only a day ago and has already been downloaded over 5000 times (as of this writing) and earned several positive reviews and ratings. Truth be told, it deserves every bit of the appreciation it is getting. With several handy and some fun-to-use editing tools complimented by a simple yet vibrant UI, PicsIn Photo is a must-have tool for Android users who want to be able to capture, edit and share pictures from their devices on the go.
From the main menu of the application, users can choose to edit pictures stored in the SD card, take a fresh photo and edit, pick images off the web or work in collage mode to edit and arrange multiple pictures over a user-definable background image.
Tapping Choose Photo takes you to your Gallery while tapping Capture Photo launches the Camera application. Once you take a photo and tap OK, it is opened within the editor which then automatically asks you whether you would like to add Date/Time or Location based text to it – a handy feature for frequent travelers who like to document their journeys. The Location based text option fetches your current location via GPS or the network.
The auto-prompt does not appear when editing existing pictures. However, text can be added to any image manually using the flexible Text tool.
The editor's interface is extremely easy to use, with shortcuts to a total of (currently) 8 tools displays right below the photo to be edited. Tapping each shortcut opens a separate menu/page for the respective tool. In the current version of the application, users can:
Rotate, crop, flip and resize the entire image.
Add speech/callout bubbles.
Add customizable text which may also include automatically generated date & time and location info.
Add Stickers simply by selecting one from an online database and tapping anywhere within the photo.
Add clipart downloadable from an extensive online database (the clipart can be adjusted, resized and rotated over the picture).
Add more images over the primary picture (these images are edited separately and can then be adjusted, resized and rotated over the primary image).
Place the image being edited within downloadable frames.
Add effects and filters to the entire photo via the Automatic option or by swiping across the photo with the Mask Brush option. That is, you may 'color' a portion of a photo with the Grayscale or Emboss effect, for instance, while letting the rest remain in color.
Save to SD card.
Upload to Facebook or post on Facebook wall.
Set edited image as wallpaper.
A particularly entertaining feature of the application is the Collage Mode wherein users can select from several primary backgrounds over which they can add photos stored from the gallery. An example image created using said feature is given below (right). It took less than a couple of minutes to put together.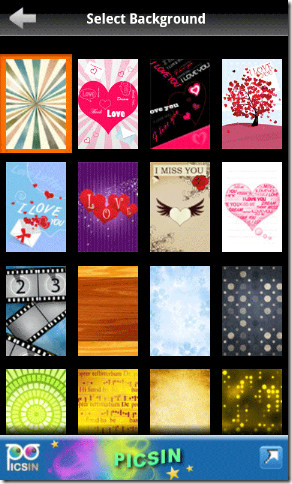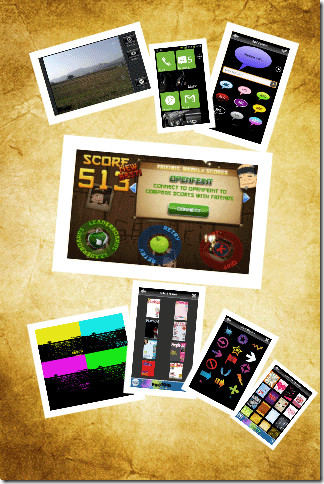 Itching to get your hands on PicsIn Photo? Head on over to the Android Market via the link below or by scanning the following QR code to install it.
Update: The app is no longer available on the Play Store.