Adobe Acrobat Connect Pro Mobile Comes To iPhone
The Adobe Acrobat Connect Pro Mobile application for iPhone and iPod Touch has hit the iTunes AppStore.
Acrobat Connect Pro Mobile lets you attend meetings on your iPhone and iPod Touch. You can watch and listen to live presentations including real-time presenter webcam video and screen-sharing demonstrations. See who is in attendance at any given time, and share ideas through live text chat. Meeting audio can be received via a VoIP broadcast using WiFi or 3G, or if on an iPhone, you may join a telephone conference call as well.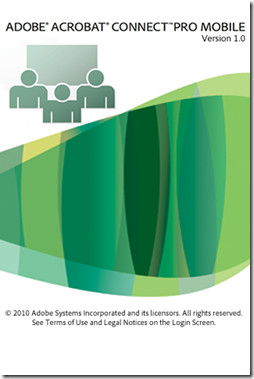 Main features of the program include
– Attend Connect Pro Meetings with integrated conference call or Voice over IP audio. Let the meeting call you, and avoid entering cumbersome dialing codes.
– See who has joined the meeting, and their role (host, presenter, or attendee)
– View presentations, PDF documents, videos, and screen sharing provided by the meeting organizer. Rotate, pan, and zoom to choose your personal 'best view' of shared content
– View Webcam broadcasts from unlimited live camera feeds provided in the meeting
– Participate in Chat conversations throughout the meeting.
– Join meetings attended by users on virtually any computer system: Mac, Windows, Linux, and Solaris. Plus other mobile attendees on iPhone and iPod touch.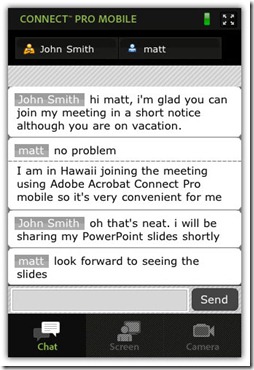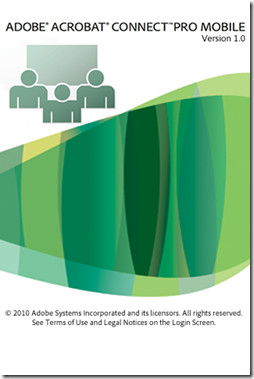 Connect Pro Mobile is available as a free app from iTunes AppStore. However, to host meetings you need a Connect Pro account (a 30-day free trial is available). It requires iPhone OS 3.0 or higher to work.