AirCover: All-In-1 Mobile Security & Optimization Tool [Android, iOS]
AirCover is one of the most comprehensive and multipurpose system protection and optimization Android and iOS apps that sport some very handy features that would otherwise be availed using, at least, a couple of different apps and services. Features offered by AirCover include an extremely effective mobile antivirus that guards your device against all sorts of malice, a device tracking tool supplemented by real-time notification alerts, a remote alarm trigger to instantly find your lost device, remote data wiping to protect your precious mobile data from falling into wrong hands, advanced system access and authorization control for individual apps, efficient and convenient cloud storage option to back up your precious mobile content, several system optimization tools including task killer, cache cleaner, 1-click memory optimizer et al, built-in battery-life enhancement tool, and plenty more. In addition, the app also lets you check-in to locations of interest, specify various commonly visited (and/or safe) places/locations on map, send emergency mail and text message to your loved ones, check geographical coordinates of friends and family members, specify time frequency at which your mobile data would be automatically uploaded to cloud, set the time interval/action after which all the opened apps would be automatically shut down, check extended battery stats and status, get useful battery saving tips/suggestions and lots more.
Going by the list of features that AirCover sports, it would be hard to review all of them one-by-one. However, one thing is for sure: all the features offered by the app works absolutely perfectly, and are quite simple to use. All this is made possible courtesy of a neatly designed homescreen interface that presents all the core features via relevant button. Each button can be tapped to reveal further extended options pertaining to it.
For instance, tapping the Mobile Security button lets you manually run a complete system scan, trigger individual guarding mechanism for downloaded and running apps (and processes) as well as while surfing the web, and take a glance at all the apps that demand access to various components/features of your device.
Tapping the Family Safety button lets you send an instant emergency message/mail to a specific phone number, and track all your family members on map. Provided you choose the latter option, you're taken to another screen from where you can also specify some Safe Regions on map, and/or check-in to various places.
Tapping the More option under the Cloud Backup button lets you see your total cloud storage space consumption, and presents you with options to backup/restore your photos, contacts et al.
The Device Found button is all about triggering the remote device tracing feature On/Off. To locate your device on map, you need to log in to the official BlueSprig website using valid login credentials.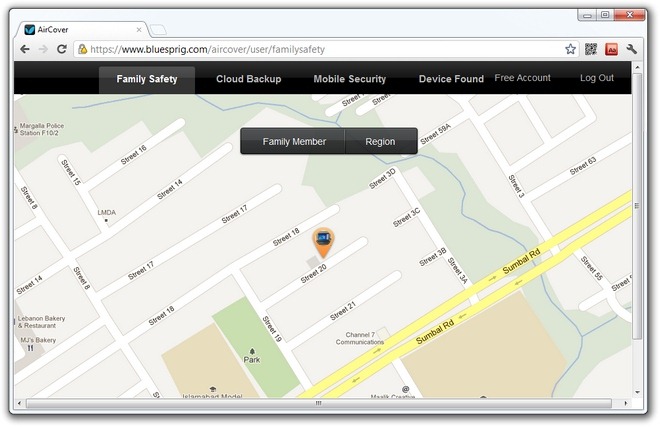 The 1-Click RAM Release, Kill Task and Clean System options can be found under the System Tueup button. Using the options available under this particular menu, you can perform a 1-click memory optimization, kill/uninstall selected apps, and/or cleanup the browser cache.
Tapping the Battery Doctor button from the app's homescreen lets you access an option-packed Dashboard from where you can check detailed stats and status pertaining to your device's battery.
To begin with, each new user gets a maximum of 2GB free cloud storage space that they can avail to backup their photos, contacts and other important data. By upgrading to a Premium account for a maximum of $24.99/year, you get several handy options such as extended pool of member to include under the protection cloud, send emergency notifications via SMS, larger cloud storage, automatic antivirus update and system optimization, and lots more. To tinker with all the various app settings pertaining to the aforementioned features, tap Menu > Settings from the app's homescreen.
The best part about the app is that despite packed with so many options, AirCover is absolutely free.