AirPhones Streams Audio Wirelessly From PC To iPhone, iPad, And iPod
AirPhones is a cross platform application, which allows streaming audio from your computer to an iPhone or iPod Touch device. You will require creating a server on a Windows, Mac or Linux machine to access the audio being streamed via a wireless network and AirPhones mobile app. The procedure for streaming your computers audio via an iPhone or iPod is quite simple and makes it possible to Experience DVD, desktop TV, web videos, internet radio, audio books, shared iTunes playlists and podcasts to be streamed from your iPhone, iPad or iPod across the house or office. During testing, we found the streaming audio to be of quite good quality, without lags or latency issues.
To get started, launch AirPhones to initiate the server. You can show the AirPhones icon from system tray, quick launch and auto launch it at system logon by selecting the available options. Displaying the system tray icon can be useful in identifying if the server is running. The system tray icon turn grey when the server is offline and turns blue when it is functional.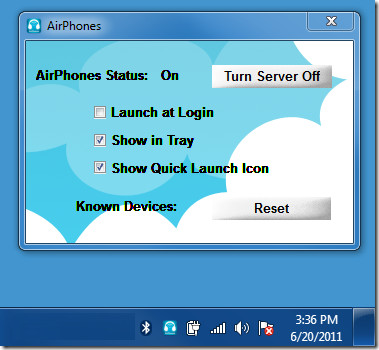 Once the server is functional, run the AirPhones app on your iDevice. You can download the app from the iPhone market link given at the developers page. This app has both a lite and paid version. The paid version costs $2.99. Once the app is connected to the Wifi network, you will receive a prompt that AirPhones app is trying to connect to yoru computer. Click OK to continue.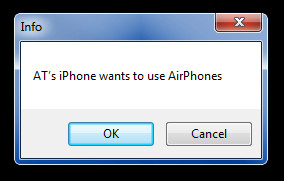 This will start streaming the active audio content from your computer to the iPhone, iPad or iPod Touch device.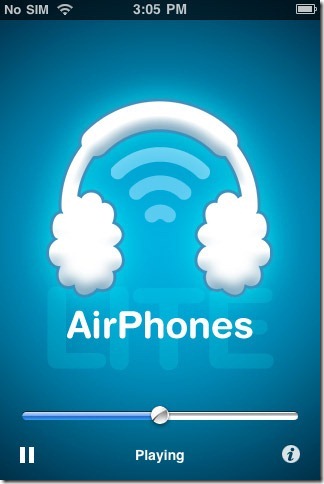 AirPhones desktop application works with Windows XP, Windows Vista, Windows 7 (32-bit Windows only), Mac and Linux based operating system.