Alternative PDF Viewer – Fast Font Rendering & Multiple Color Modes [Android]
PDF is easily the most commonly used file format for viewing and sharing documents. Whether it is the user's manual of your newly bought gadget or a tutorial of some training course, PDF file format is the preferred choice for documentation of all. Although there are many PDF readers available in the Android Market, most of them are somewhat restricted in their ability to display PDF documents according to user convenience. Whatever quality alternatives are present are either laden with all sorts of features, or tied with hefty price tags. In an attempt to make PDF file viewing easier on Android, XDA Developers member arpruss has come up with Alternative PDF Viewer. Alternative PDF Viewer supports some handy and interactive PDF reading features that are not present in other alternatives.
Alternative PDF Viewer allows enhanced font rendering that makes browsing through large and heavy documents pretty swift. Also, multiple color modes for documents help viewing documents in a better and clear way. Alternative PDF Viewer supports following color modes:
Normal black and white,
Inverted black and white,
Black on yellowish,
Green on black,
and Red on black
PDF documents can be viewed with full screen support in landscape as well as portrait orientation. On-screen zoom controls let you zoom in/out of a document or auto-fit a document according to screen size. Go to page option allows quick navigation through various pages of the document while on-screen page number displays total number of pages of the document and the current page number being displayed.
Moreover, Alternative PDF Viewer supports some conventional PDF reader features such as ability to browse device directories to locate PDF files, save file history, skip images from the document (faster rendering), lock screen orientations, left/right rotation of documents, ability to remember page position of last opened file and other miscellaneous tweaks. Alternative PDF Viewer also allows scrolling through pages with the volume keys of your device. As evident from the screenshots above, the main settings screen of Alternative PDF Viewer has some very useful options on offer. For instance, it is from this screen that you can toggle the Render Ahead feature (helps the app in rendering pages faster). Then, you have the toggles for volume key navigation, as well as the Vertical scroll lock.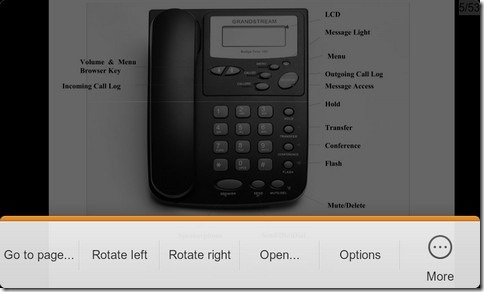 Oddly enough, the app does not seem to be available in the Google Play Store. However, interested users can visit the app's XDA-Developers forum to download its APK or to learn more about it.