Android App Of Proximity-Based Social Network What's Shakin' Released
Based on the concept of location-based information sharing, What's Shakin' is a relatively new and innovative social networking service that lets users specify a radius around a particular location on map, from where they can follow all the proceedings taking place on various other social networks, including Facebook and Twitter. Apart from specifying a particular point on map to follow social activities of other users, the service also lets you decide which users should appear on the conversation thread, and which ones should be excluded. In an attempt to help the Android users follow all the social activities taking place on Twitter from only their desired location, What's Shakin' has just launched its official Android client in the Google Play Store. The app lets you set a particular location and relevant radius on map, and presents all the latest from the What's Shakin' and Twitter world on a universal news feed. This means that you can get all the latest updates from a specific location without even having to be present there at that very instance. Want to post your own status message? No problems! With the app on running on your device, you can easily and instantaneously post to Twitter, as well as the What's Shakin' network itself.
In essence, What's Shakin' can be cited as a fine little mash up of Google Maps and Twitter, as you can follow Tweets from within a specific vicinity only. What's even better about the app, is that it lets you search for desired keywords from within the posts to find content of interest. Not just that; you can also navigate to a location of interest on map with utmost ease.
At launch, the app prompts you to log in to the service using your What's Shakin' account, or go through a brief, yet extremely helpful tutorial screen, to get a good grip of the app's various features. Even without logging in to the app, you can start exploring all the social activities going around a specified location.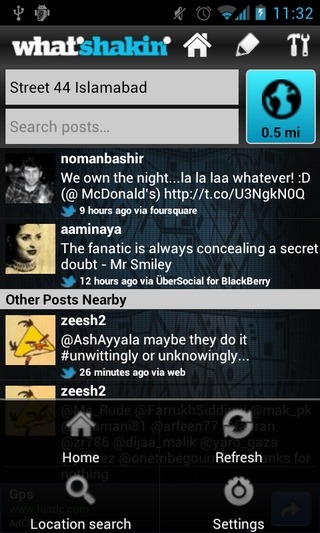 However, in order to get into the sharing side of things yourself, you must be logged in to the service. Registering for a new account is free, and can be done from within the app with ease.
Once logged in, you can start posting to both said networks, and view the updated feed of messages shared by other app users around you via the app's homescreen. To select a different location, and/or to adjust the location radius, tap the globe button at the top-right side of the screen.
To select a different location, just drag the placemark to the desired area on map. Using the slider at the bottom, you can adjust the location radius accordingly. Tapping the pencil button at the top lets you compose a custom message that you can post to your What's Shakin' and/or Twitter account.
Tapping a username from the feeds screen lets you view their message and map location. While on this screen, you can Reply to or Mute that particular user. From the app's settings screen (tap Menu > Settings), you can manage your What's Shakin' profile, language and Muted Users settings accordingly.
Download What's Shakin' for Android