Android Gingerbread HTC Sense 3.5 ROM Available For HTC Hero [Download]
HTC Hero is a legacy Android device that came packaged with 600 MHz Arm Processor with ancient Android Cupcake on board. However the phone was able to gain immense popularity at that time and we can easily say that Android development entered its renaissance period with extensive experiments on HTC Hero. Even today there are scores of Android fans who have this phone and apart from this, the phone still boasts of an undeterred developer support at various Android portals and forums. Recently HTC Sense 3.5 was extracted by some Android hackers from certain leaked RUUs of HTC Runnymede and Bliss. This new version of Sense from HTC is basically a revamped, thoroughly optimized and more stable Sense 3.0.
Sense 3.5 features countless widgets with option to go portrait mode on Homescreen. Some industrious hackers and developers at XDA Forums have managed to port this newest Sense 3.5 UI on the Hero. tecmheroc, Android hacker team based at XDA, has been able to make full custom ROM based on Android 2.3.4 Gingerbread with Sense 3.5 by tinkering with HTC Pico Nordic system dump. Like other initial ROM ports, this Android 2.3.4 Gingerbread Sense 3.5 port also have some issues. The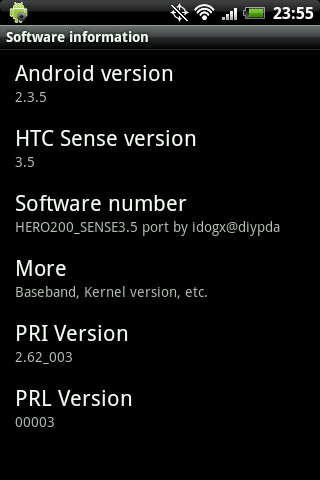 issues aren't that big and this ROM can act as your daily driver if you don't use BT connectivity etc.
Here is a list of what works in this Sense 3.5 ROM for HTC Hero:
Phone Calls
Text Messaging
GPS Locking / Location Detection
Audio Playback
Camera [Video Recording and Stills]
Phone Sensors
LED Notifications
HTC Task Killer App
HTC Hub
HTC Likes
HTC Weather Animations
Wi-Fi
And what still needs fixing:
Bluetooth Connectivity
Some Apps Force Close After Downloading From Market
USB Mass Storage Mount Issues
Like all other custom ROMs, you will need your Hero to be rooted along with ClockworkMod Recovery installed. You can download the ROM zip file from here and then head to the official XDA thread posted here for flashing instructions as well as some patches to simplify the process.