Apply Themes To Your iPhone Or iPad Folders With BeautiFolders
Yesterday we highlighted the importance of adding customization to your iPhone's folder icons to enhance the overall look and feel of the device by using the Cydia tweak named FolderIcons. Looks like the jailbreak developers are really into folder customization for iOS these days. BeautiFolders is living proof of that statement. It is yet another tweak aimed at making your folder icons look better by adding predefined or user-created themes to folder icons. Some people might consider it too small a feature to bother about it, but if you are on a jailbroken iPad, the folder icon size is big enough to be visible to most users. There are some pretty good icon mods available in the tweak, and you are sure to love the new look of folders on your iOS device after using BeautiFolders.
It's not that the default icon that represents folders in iOS looks bad in any way (although opening a folder is a bit jumping into a black hole). It's that users get tired of looking at the same UI day after day.  That is where BeautiFolders comes in handy. This free tweak is available at the ModMyi repo in the Cydia store and if you only plan to use the themes provided by the developers, then it's pretty simple to use.

There are four theme packs that come with the app. After installation, navigate to your iDevice's Settings menu and in the Extensions tab you will find the BeautiFolders tweak. All this menu allows you to do is to chose one of the existing themes and applies them to all the folders present on your iPhone.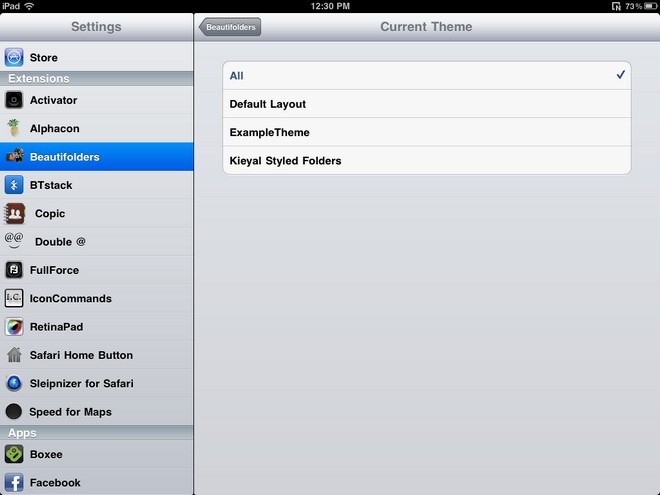 However, you can also create a theme of your own for the folders. The complete guide to creating your own folder themes is given within the app. To view that, you will have to access the file system of your device (we used iFile – a Cydia app). In the file system, the "Read Me" file is present at this path: /var/mobile/Library/Folders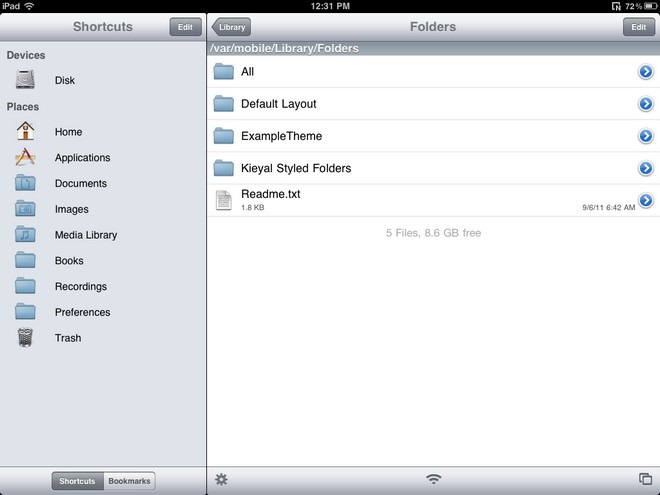 Follow the instructions in the "Read Me" file and you will have your very own folder theme visible in the tweak's settings menu. This might seem like a lot of effort for a small task, but in the end the folders do look pretty cool. And if you don't want to go through all the trouble, you can stick to the themes that come packed with the tweak.