AppPlus Brings You Latest Price Drops Of Apps In The Android Market
How do you bargain for your favorite apps that are available in the Android Market with a rather extravagantly higher price tag (at least in your books)? Well, you don't have a shopkeeper to argue with nor can you force the issue on your own. It's either you go on with the purchase by paying the current price or rather wait for the prices to drop. But how do you know when the price of your favorite app drops? That's where AppPlus comes in. AppPlus is a free Android app that lets you keep a close check on the latest price drops of various apps in the Android Market. Details after the break.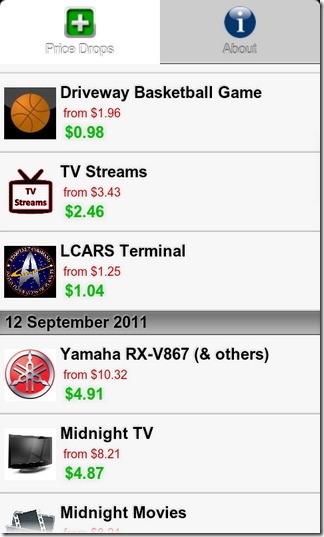 Since prices of most (paid) apps are almost updated on daily basis so, you can use AppPlus to constantly keep checking when the price of your preferred app sees a significant drop. Once installed, AppPlus automatically retrieves latest price updates from the Market and alerts you of  the recent cut down in the price of various apps. The interface of AppPlus is quite simple and sports a solitary homescreen (along with an About page) that displays all the apps which have undergone a price drop of some sort in the past few days along with their current price (in US Dollars). You can also check out the exact deviation in the price (from the previous one) of all the displayed apps. If you have luck on your side, you could even stumble upon a few apps that have shun their price bracket altogether and are available for free; albeit just momentarily (as happened with us during our brief test run of the app). However, under normal circumstances, you'll have to be content with price drop of your preferred app and grab it before its price soars again. Tapping on an app title/icon leads you to its relevant Market page from where you can easily purchase and download the app.
The purpose that AppPlus serves is quite simple but it can surely keep you from visiting the Market on consistent basis to check for price drops of your favorite apps separately. Provided your device consumes quite a few data bytes each time you have to visit the Market using mobile data plan, AppPlus offers some relief as it lists out your preferred content through its simple interface, thereby ensuring that you don't have to visit/browse multiple web/Market pages.
Download AppPlus for Android
Update: AppPlus has been pulled from the Google Play Store. To get real-time and customized notifications for price drops of apps in the Amazon Appstore, check out Amazon App Notifier.