Appy Gamer: A Sleek & Customizable News App For Gamers [Android, iOS]
Being a regular smartphone apps reviewer, I feel absolutely blessed to come across offerings from some of the giants and recognized names in business. Looking at the events of the past three days, first it was team Root Uninstaller that came up with Smart Settings – a nifty solution to personalize and automatically switch between Android sound and system profiles. Then yesterday, OneLouder Apps introduced us to arguably the most innovative and feature-rich Twitter client for Android and iOS-powered devices in the form of Slices for Twitter. Today is the turn of MobilesRepulic – the creators of several intuitive news aggregating smartphone apps, such as Appy Geek, Glam Life, News Republic and Sports Republic – to unleash yet another gorgeous-looking, free news app. While Appy Geek was aimed at geeks and tech lovers, Glam Life had you covered with all the latest happenings from the fashion world, Sports Republic tried to attract avid sports followers, and News Republic covered news stories from almost all wakes of life, the team's latest release, Appy Gamer, aims to be the hardcore gamers' one-stop shop for getting daily doze of gaming news from virtually every known platform, including PC, mobile, Xbox, PS3, Nintendo and almost every reliable news source out there.
The app's beautifully laid out interface makes navigation to various sections extremely convenient. In fact, if you had a chance to play around with the team's previously released Sports Republic, you'll instantly learn that Appy Gamer uses almost the same engine as has already been seen with the former, with the only difference being in the subject being addressed: Games (instead of sports).
There are thousands of news articles aggregated from a plethora of sources to keep you updated with whatever is ongoing and upcoming in the world of games. Customization and content exploration lies at the core of Appy Gamer, as it puts you in complete control over almost every single facet of the app, including the home screen items, news sources, notifications and whatnot.
It all begins with the Flipboard-like tile-oriented homescreen that can be self-curated by adding only the news topics/channels of interest. As ever, there are plenty of means to explore new topics and news sources. You may select from the trending topics, featured ones or anything that you may have searched for manually. Also included within the package is MobileRepublic's signature interactive TagNav Explorer feature that helps users easily pluck a topic of choice from a tag cloud-oriented interface.
As with Appy Geek and Sports Republic, the tag cloud UI is available in three different styles (Classic, 3D Sphere & 3D Wheel). While exploring stories under a specific topic, you may sort content by date, mood or videos. You have the option to set any channel as a featured homescreen item, activate notifications for the required topics, and/or disable all notifications during the night hours.
As of now the app fetches all its gaming-related news and multimedia content from the following sources:
CVG
Edge
Eurogamer
Gamerzines
gamrReview
Golden Joysticks
imediamonkey
iPhone Gamer Blog
KJBcast
Nintendo Insider
Now Gamer
PC Gamer
Pocket-lint
Ready Up
Slide To Play
VG24/7
VGChartz
and plenty of others
Each story is supplemented with ample informative, interactive and multimedia content. That having said, there is an entirely different multimedia section within the app that lets you filter out the latest Photos and Videos from the gaming domains. The Videos section comes in handy particularly if you're looking for your favorite games' reviews, previews, video walkthroughs, expert analysis and more.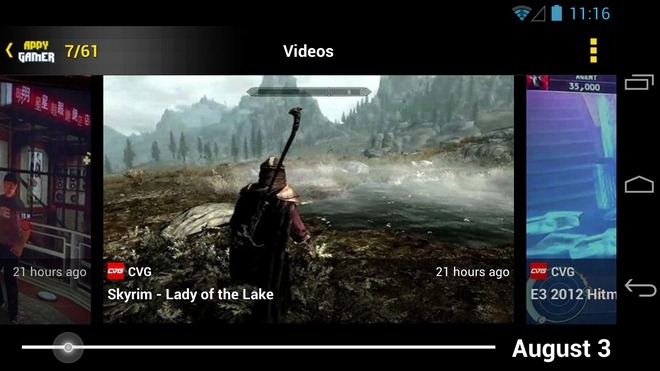 Just like any other story, there is the option to rate videos by selecting the relevant mood for it. A mood is the depiction of your response/reaction to a particular story. Based upon the type of the news, your mood may fluctuate anywhere from LOL (liked very much) to Game Over (not too satisfied).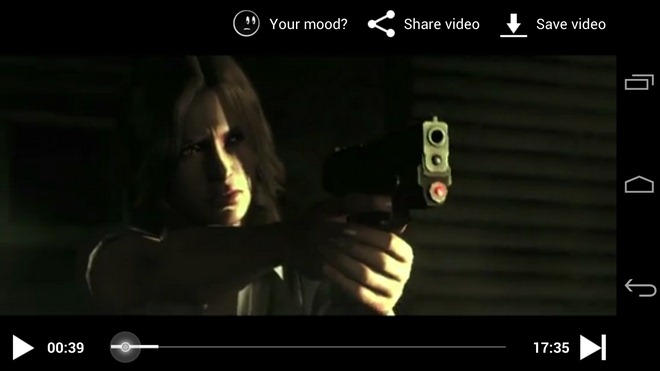 Any article can be saved, shared and/or rated from within the news reader screen. Plus, you can set the font size, toggle between day/night reading mode or jump to the tag cloud interface to explore other topics relevant to the selected one.
The app is available in eight different editions, including French, German, English (International, UK & USA version), Italian, and Spanish (Spain & International version). Each edition is readily available, meaning that you don't have to download the required edition separately.
Last but not the least, Appy Gamer sports a couple of different styles of widgets that let you keep an eye on all the latest news stories as well as only the images relevant to the selected topic right from your Android's homescreen. A fully tablet-optimized version of Appy Gamer is also available in the Google Play Store, as well as the iTunes App Store.
Download Appy Gamer for Android
Download Appy Gamer For iPhone, iPad & iPod touch