Astro File Manager vs. EStrongs File Explorer vs. Dual File Manager [Best Android App]
File management is something Android phones are currently missing by default. One of the first things user do is to search for a good 3rd party file manager app after purchasing a brand new Android device. In this post, we have reviewed three of the best file managers currently available in Android Market which will definitely help you in making a better choice.
Astro File Manager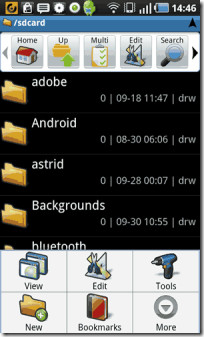 Astro is a file manager, backup utility and task manager packaged in a single app. On the other hand, add-on modules such as Networking and Bluetooth modules can be installed on the top of it to enhance the overall capabilities.

As a file manager, files can be searched, edited and added to a bookmark list. It can backup your default and third party apps to SD card. It can also extract zip and tar files to phone memory or the SD card. Process manager or Task killer is another key feature of Astro. Apps, services and processes can be stopped, at the same time giving user key details of CPU and memory usage.
Download from AppBrain or scan the QR code.
ESTRONGs FILE EXPLORER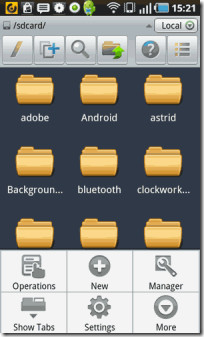 EStrongs file explorer is a file manager with an added ability to access LAN and FTP files as well. Files can be viewed with all the basic editing options (cut, copy, paste, delete, rename). Applications can be viewed and a backup can be created for market and third party apps. Files can be copied to and from computer online storage via LAN and FTP options. Music and videos can be streamed from computer to phone and vice versa.

This app comes with an app manager and SD card analyzer. Security and task manager add-ons have to be downloaded separately though. Security manager provides application protection, threat scanning, remote locker and backup features. Both process killer and uninstaller comes as part of Task Manager add-on.
Download from AppBrain or scan the QR code.
DUAL FILE MANAGER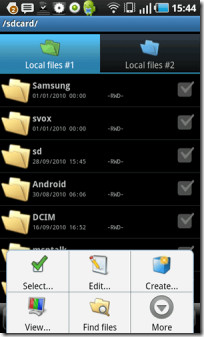 Dual File manager is an easy to use file explorer with dual tabs for quick file transfer. One unique feature is to show thumbnails of images and folders, which greatly helps in browsing. Sadly images themselves cannot be viewed. Files can be searched and basic editing methods can be processed. Zip and Tar compressions can be generated for files and folders by doing a long tap on any file or folder. Files can be shared as well using the same feature.

Download from AppBrain or scan the QR code.
comparison chart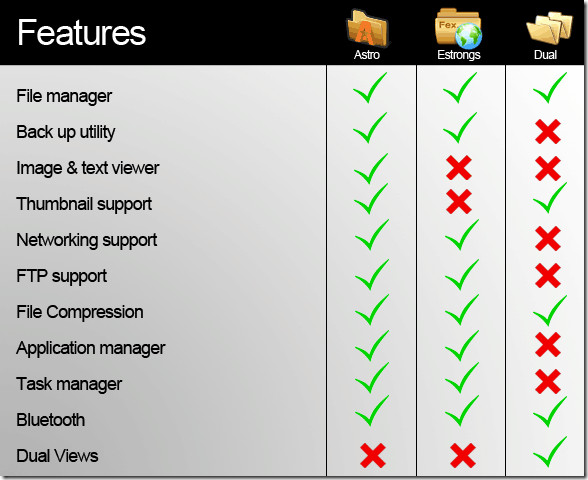 Feel free to decide which one is best for you with the help of the comparison chart above. Enjoy!