Avira Brings Its Anti-Theft & Privacy Protection Tool To Android
When it comes to securing your beloved Android device from internal as well as external threats, rest assured that you will be able to find plenty of protection tools in the Android Market. While certain apps are intended to free your Android device from all sorts of malice (such as viruses and malware), other are aimed at helping you with remotely controlling and tracking your lost mobile phone.
Adding to the long list of the apps from the latter category is Avira Android Security (Beta) that brings some of the most sought-after anti-theft options that can help you remotely locate, lock, wipe and sound alarm on your lost Android device.In addition to aforementioned features, you can also check the battery, SIM card and general information of your device, and get an instant overview of all the operations preformed remotely on the device via the official Avira Web Console for Android.
Another highlighting aspect of Avira Android Security it that supports monitoring and controlling multiple devices that are registered with your email address. You may have already seen most of the said features with plenty of other apps, but provided this particular tool comes from the likes of Avira, you ought to believe that it is going to be as reliable and effective as any of the protection tools offered by the company for your computers. We were able to confirm this during our brief test run of the app on Samsung Galaxy S (running Android 4.0 Ice Cream Sandwich).
All you need to do in order to avail Avira's security services on your device is to provide your email ID (for registration purpose). Once registered successfully, you can access all aforementioned features from Avira's Android Web Console.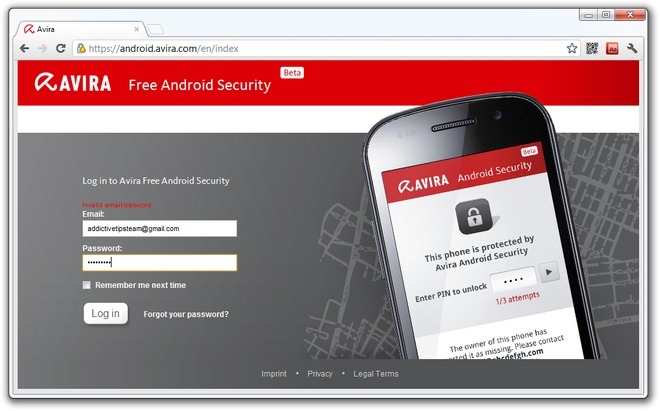 So then, what does the Web Console has to offer? The left pane on said website lists all your devices that have the Avira Android Security app installed on them. On the right side, you're presented with multiple tabs, each helping you access all aforementioned features.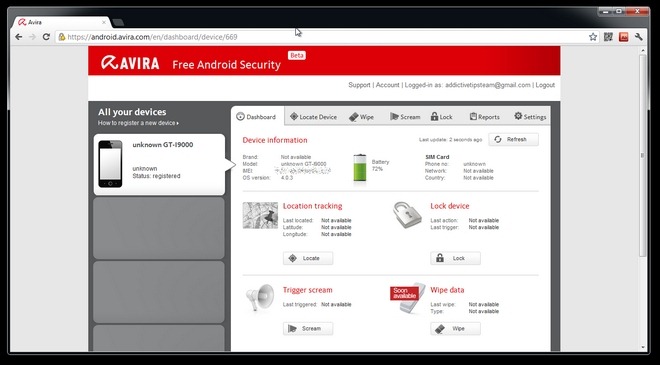 For starters, there is an information-packed Dashboard that provides you all the core information regarding your Android device, such as the brand, model, IMEI, OS version, current battery status, and brief SIM Card information.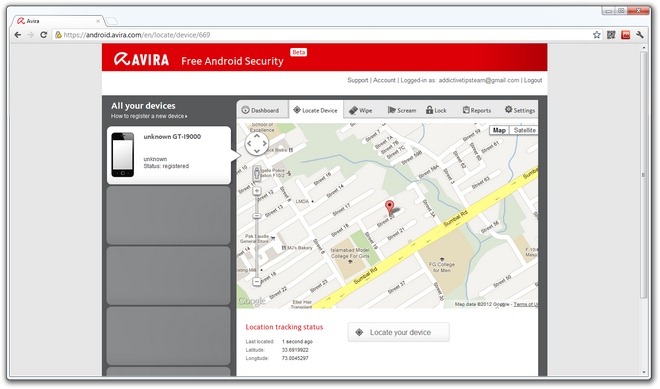 Using other tabs on the website's interface, you can remotely request device location (via GPS), lock the device using a 4-digit PIN, wipe data on phone (not available as yet), sound alarm, check interaction history, and most important of them all, send a custom text message on your lost phone number with your contact information (mail ID and/or alternate phone number) so that anyone who finds your device has no problems in finding the owner, which is you!
Download Avira Android Security for Android