Black Themed GMail 2.3.5 App For Android Now Available [Download]
There are many reasons that have played a vital role in unprecedented success of Android as a Smartphone OS. One of these reasons is perhaps the customization to the core concept that allows users to change anything to everything on their Android devices. You must have come across a number of themes, icon packs, custom boot and splash screens and Live wallpapers if you have used Android for some time and have dared rooting. Android's flexible nature and adaptability is perhaps more than any other Smartphone OS available in the market today.
Most of us like going with blue / black themes on our Android phones / tabs for that "extra cool" look and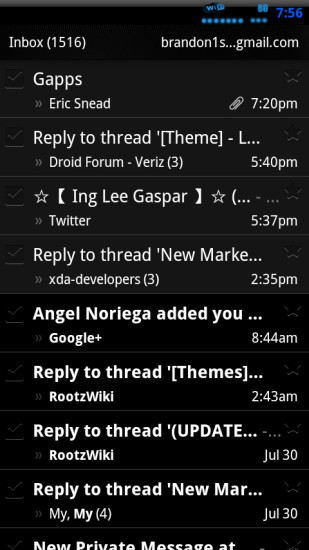 feel. Following the trend, ecsnead69, XDA member and Android hacker / modder, has released a modified GMail app for Android that is themed black. The extensiveness of this app theming suggests that the developer did put a lot of time in optimizing stuff and pulling the strings together to provide users with a really cool and black GMail experience. Previously we have witnessed Android Market going crazy green, orange, black and red, all thanks to modders and hackers, and this is our first instance to come across this black themed modified GMail App.
Here is what the developer has to say about this Black GMail 2.3.5 release:
Ok, here is it.. just pushed last night and already inverted! The major part of this was done by B-boy, I just added the finishing touches and did a few smali edits..
Instructions for ROOTED users…..
uninstall updates for Gmail
download the app
navigate to app
select and install…..enjoy
if this doesn't work, then you will need to use RE, rename gmail.apk in /system/app to Gmail.apk.old and then REBOOT, if you do not reboot it won't work!!
Now return to the app, select it, and install… enjoy
Non-Rooted users, you can give this a try and see if it will work…
uninstall updates for Gmail
download app
navigate to app
select and install
You will know right away if it works…..
Always make a backup and enjoy Gmail 2.3.5…. Blacked Out
You can download Black themed Gmail 2.3.5 app for Android from here and then follow the instructions provided in quotes above to get it moving on your phone. Please note that as Gmail is a system app, so it is a must to make backup before installing the modified version. In case you are stuck or want to request / donate, then please head to the official XDA thread posted here.