Bookmark Sync Add-On For Dolphin Browser HD Now Out Of Beta [Android]
If you're looking for a quick and easy way to import/sync your Dolphin bookmarks on Android, then you're in luck because Bookmark Sync is here. Bookmark sync, which has just shed its beta tag, is a handy add-on for the famous Dolphin HD Browser that helps creating back ups and syncing your bookmarks (manually as well as automatically) with the cloud. This is an extremely useful feature for Dolphin users who wish to import their favorite bookmarks to another device or need to import their (old, backed up bookmarks) to a fresh install/upgrade of said browser on the same device.
The folks behind the Dolphin browser have been busy bringing several add-ons and plugins for their revered browser, and the Bookmark Sync Add-On is just another feather added to the cap. The add-on vows to help you with remotely accessing and recalling your favorite Dolphin bookmarks on any Android device you wish. You must have a valid Dolphin account to use Bookmark Sync. In order to setup a new account and use Bookmark Sync, proceed as follows:
Launch Bookmark Sync on your device.
Feed in the required details (email & password)
Visit your inbox to activate your Dolphin account via provided activation link. It must be mentioned here that the activation link is valid only for 30 days.
Once activated, go back to Bookmark Sync and you're ready to sync your favorite Dolphin bookmarks.
You are presented with a choice to either sync your Dolphin bookmarks manually or specify the time frequency for syncing to take place. Select your preferred sync settings and tap Sync Now. It's fast, it's simple and works perfectly fine.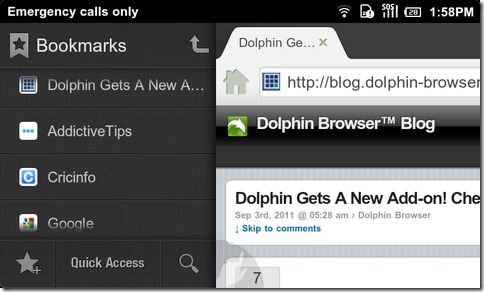 As evident from the screenshot above, the add-on, once added, sits silently in the left side of the browser. Swiping the browser window towards the right reveals the left pane that displays the bookmarks bar, complete with your favorite bookmarks.To download this add-on for free, visit the Android Market link provided below.
Note: Bookmark Sync is only compatible with Dolphin Browser HD v6.2. Download link to Dolphin HD Browser ( v6.2) is provided below for your convenience.
Download Bookmark Sync for Android
Download Dolphin Browser HD for Android
Update: The Add-on has been removed from the Google Play Store because the bookmark syncing feature that came along with Bookmark Sync has been permanently integrated within Dolphin Browser HD itself. As mentioned earlier, the left pane of the app now caters to your favorite Dolphin bookmarks.