Brilliance: A Simple, Elegant Unofficial Android Client For 500px
Numerous studies reveal that photography is unarguably the most popular genre of smartphone apps, and why not, for the ever-improving camera quality of these devices beckons for even the most naivest of the photographers to capture the most memorable moments of their lives like a true professionals. With such heavy emphasis on photo capturing, it is only fitting to see equally overwhelming number of online platforms that allow users to share their pictures with the world. 500px is a photo sharing web service that cuts the junk aside, and focuses largely on letting users explore photography masterpieces submitted by real professionals and photography experts. Adding to the list of unofficial Android clients for popular photo-sharing service 500px is Brilliance – a simple yet effective way to explore the 500px image gallery. Using Brilliance, you can browse images by photographer, manually search for photos by desired keywords, download images directly to your device, or share them with your buddies from within the app, all through a simple yet stylish interface.
It must be mentioned here that Brilliance is just meant to provide users with a simple alternative to access the 500px database. There is no option for registered 500px users to log in to the app, nor do you require to sign up with any other service to use the app. Just launch the app, and start searching for required images on the service, or tap a username to explore images uploaded by the photographer.
Tapping on an image thumbnail displays the photo in fullscreen. While viewing an image in fullscreen, tapping anywhere on the screen lets you Download or Share the photo. Swiping to the left reveals all the comments that the photo has received whereas swiping to the right displays other details relevant to it.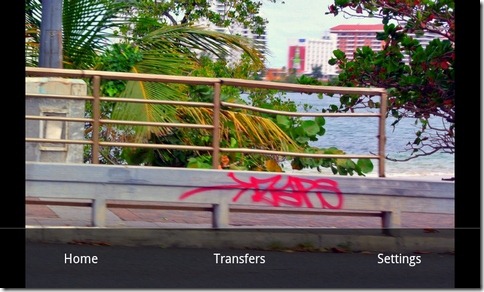 On the details screen, you can find the image Category, Rating, Votes, Favorites, total number of Views, date Created, Status and location (Latitude & Longitude). Tapping the photographer's username at the bottom of this screen displays other images uploaded by him/her.
From within the app's settings screen (Menu > Settings), you can enable/disable the app's history option, and specify the maximum Cache Size and Cache Image Quality. Selecting Transfers from within the app's menu lists all downloaded images along with brief details pertaining to each. Downloaded photos can be found within the Brilliance folder on your SD card/local storage.
Download Brilliance for Android