Bubbleator – All Notifications On Android Home Screen [Live Wallpaper]
Missed calls, unread text messages, calendar events, Facebook and Twitter updates…. Your phone surely demands some attention so that you do not miss out on any important news and notifications. There are plenty of ways to monitor notifications pertaining to each and every single service through various apps, but what if you could sneak peek at all the notifications from under the same roof?  Bubbleator solves the problem by collecting all the aforementioned information on your Android home screen in the form of a fully customizable ticker-style live wallpaper. With Bubbleator, you will never miss out on an important meeting, friend's birthday party, crucial updates of your favorite sports, or replying back to your colleague's messages.
Apart from notifying you of all your missed calls and text messages, Bubbleator also keeps a close check on the activities in your social media circles. Just feed in your Facebook and Twitter account and Bubbleator will stream live feeds from said services right on your home screen. All the Bubbleator items can be viewed, opened and removed with just a tap.
Notifications are displayed along with their respective time to keep you aware of all the events as they occur. Depending upon the flow of information and amount of notifications, Bubbleator adds/removes tickers on the screen accordingly so that not a single event, text or social message is missed. Bubbleator works equally effectively in both portrait and landscape orientation.
Once installed, tap on Take me to the Live wallpapers list button and select Bubbleator. You can also set Bubbleator live wallpaper manually by long holding down on a vacant spot on your home screen and selecting Wallpapers>Live wallpapers>Bubbleator. Tapping the Settings… button allows you to customize Bubbleator as you like. For instance, you can set a background image of your choice and manage various Bubbleator items such as calendar, missed calls, SMS, Facebook and Twitter from within this menu. Also, you can set stream speed and position of the ticker as per your liking. You can set specified time for the live wallpaper to display upcoming calendar events from selected account. You can also specify number of days after which calls and message notifications get expired on the ticker. For Facebook and Twitter, max display time for notifications can be specified along with setting an assigned time period to check updates for both services. Future releases of the app promise additional features.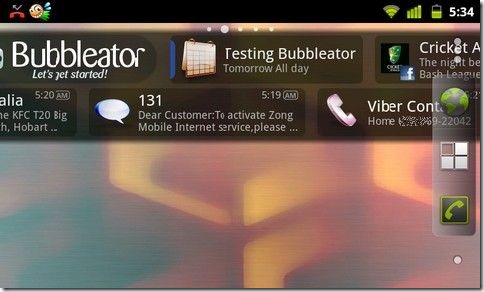 Download Bubbleator for Android