CALCNEXT: Handy 7-In-1 Calculator/Converter For Android & iOS
The mobile/smartphone world is certainly no stranger to calculators and metric conversion tools. Whether you're looking for a replacement to your device's stock calculator app or a scientific one that offers extensive calculating options, rest assured that you'll be able to find more than a significant amount of apps to choose from. CALCNEXT is yet another extremely useful addition to the long list of calculator apps for Android and iOS-powered devices that provides you with an option to work with no less than seven of the most essential calculation/conversion tools – a scientific and mortgage calculator as well as currency, area, mass, time and temperature converters. CALCNEXT comes with TTS (text-to-speech) support, that is, it reads aloud all entered data.
Unlike its iOS counterpart, that costs $0.99, CALCNEXT is absolutely free in the Android Market. Not only is the app a handy companion for students and business owners, its TTS feature also makes it an invaluable utility for visually impaired users. However, said feature is far from perfect; it just reads just the input values and operators, and not the result. Also, as of this writing, TTS only works with the calculator part of the app. Hopefully, future releases of CALCNEXT will bring improvements to this aspect of the app.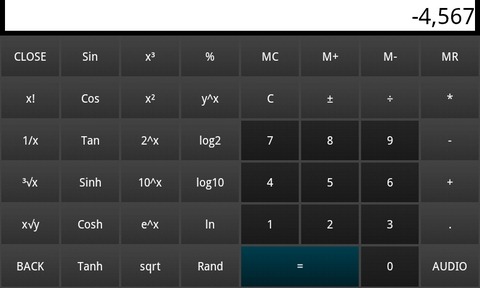 On the app's homescreen, you can find all the aforementioned features/tools arranged as separate icons. Tapping the Scientific icon launches the basic calculator if your device is in portrait orientation. To switch to the scientific mode, just tilt your device to landscape orientation.
The mortgage calculator of CALCNEXT in itself is quite a handy tool to have in your armory. You can input key values such as principal amount, interest rate, authorization period and number of payments per year (EMI) into a simple form to compute the required mortgage value. Results can be viewed in the form of a detailed report as well as an overall summary of your payments. You can also share these reports via email.
Then there's the nice-looking currency converter that, as of now, supports the currencies of 15 major countries of the world, represented by their national flags. Provided your device is connected to the internet, the app fetches the latest exchange rates from the web and then, lets you pick your required currencies.
Similarly, the area, time, mass and temperature converters of the app support displaying conversion results for multiple parameters simultaneously to make computations and calculations for you extremely convenient.
Here is a brief demonstration video that shows CALCNEXT for Android in action.
Download CALCNEXT for iPhone, iPad & iPod touch