Camera ICS Gives Android 2.2/ 2.3 Devices A Taste Of ICS Camera App
Android 4.0 Ice Cream Sandwich brought with it a variety of new and improved features, and the revamped stock camera app of the OS is one of them. The stylish and user-friendly interface, in-built file sharing options, the zero shutter lag, tap-to-focus, integrated support for capturing panoramic images, face detection, enhanced gallery, convenient zooming via a slider, and a plethora of customizable options to adjust your image/video quality as per requirement are among some of the goodies that the stock camera app of the latest version of Android supports. However, all said are available only to the devices running Android 3.0 Honeycomb or higher. Not any more, because a new camera replacement app, Camera ICS, has just arrived in the Android Market to give any Android device running Froyo or Gingerbread a taste of the stock ICS camera app.
Yes, now any device running Android OS v2.2 or higher can enjoy some of the most sought-after features of the stock ICS camera app. These include multiple color effects, picture quality settings (from low to ultra), silent mode (disables shutter sound), volume key controls to capture snaps, custom focus mode, enhanced image sharing controls, and the option to set video bitrate (Normal and 2x), and grab 180 degree panoramic images right from within the app. In addition, ICS users can also enjoy additional options such as capturing time lapse videos, and applying various hilarious face effects on live images.
Being a ported version of the stock ICS camera app, Camera ICS replicates the exact looks, and presents you with the same interface that we get to see in Android 4.0. Apart from sporting the all-important capture button, the app's main interface also offers you various controls to instantly jump to your device's gallery, and/or switch between image/panorama and video capturing mode.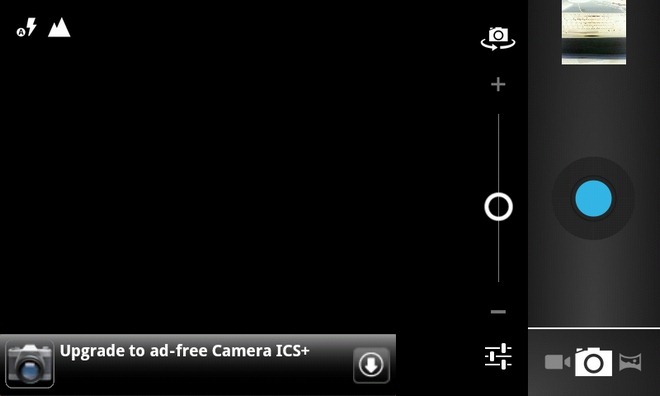 The overlay toolbar just above the aforementioned controls lets you switch between front-facing and rear camera (that is, if your device sports one), adjust zoom levels via slider, and launch the app's extended settings menu that offers various options such as adjusting exposure, scene mode and white balance settings, toggling flashlight On/Off, and switching to the advanced Camera settings menu. From within said menu, you can enable/disable Store location and silent mode, as well as specify the default Picture size, Color effect, Focus mode, JPEG quality, and the Volume key actions. Tapping the thumbnail of the captured video/photo at the bottom takes you to the app's file sharing interface, from where you can preview the file, and/or share it via compatible app.
Users running Android 4.0 or higher can avail aforementioned face effect and time lapse feature from within the video capturing mode of the app.
As of now, the Froyo/Gingerbread variants of the app seems to missing out on a couple of features, including the tap-to-focus, face detection, and most importantly, the zero shutter lag. Still, provided the smoothness and speed at which the app let us capture still and panoramic images on our Samsung Galaxy S-II (running CyanogenMod 7.1), we can conclude that Camera ICS is worthy of a try, especially if you're looking for a handy replacement for your Android's stock camera app.
Camera ICS is available in the Android Market as a free (ad-supported) as well as a $1.33 paid (ad-free) variant.
Download Camera ICS (Free)
Download Camera ICS+ (Paid)