Official Android Client Of Video Chatting Service Camfrog Released
Back in the 'good old days' of dial-up connections, when the concept of modern-day social networks and micro-blogging sites barely existed, instant messaging was considered to be the prime medium of connecting to worldwide internet users. Those were times when the likes of AOL, Yahoo!, MSN, AIM, ICQ and several other similar services that hosted public/private chat rooms ruled the roost. As time progressed, and high speed internet became mainstream, numerous other big players stepped into the foray, providing the facility of video chat. Camfrog is one such service and is renowned for boasting an overwhelming number of registered users courtesy of its high quality audio and video chatting service, easy file sharing , and more importantly, its availability across almost all renowned desktop and mobile platforms. It has been available on Windows, Linux & iOS for quite some time, and now, a beta version of the app has finally been released for Android users as well.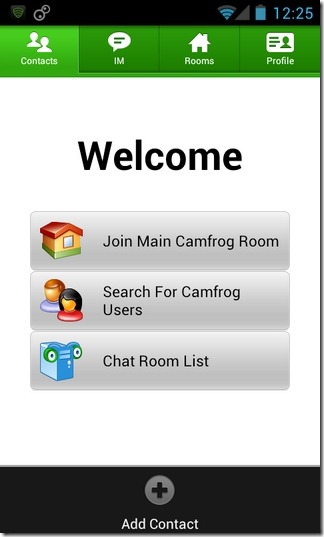 The client allows you to access the service's various public chat rooms, or create your own private ones to indulge in voice and video chatting with your friends and family. The app puts you in complete command of your chat rooms; you have full authority over defining the general chat room rules, as well as specifying the users who have access to the room. You can invite users to a chat room of yours, and kick them out of it at will.
In order to get started, you must log in to the app using a valid Camfrog nickname. Once logged in, you are taken to app's main interface, which is divided into four tabs. From within the Contacts tab, you can search search for other Camfrog users by profile name, view all existing contacts, join the Main Camfrog Room, and/or check various chat rooms supported by the service.
IM is where you can create your own private chat rooms, and start your own personal IM sessions by allowing/disallowing access to the chat room to specific users.
Can't find any of your friends or family members online? Try one of the many public chat rooms hosted by Camfrog. For this, tap the Rooms tab at the top, and select a chat room of choice to connect to it. As mentioned earlier, each room might have its own rules,which the users must adhere to in order to either join or stay connected to that room. Should you fail to do so, you might very well be given the boot.
There is plenty of entertainment to be had – instant messaging, voice messaging, trivia games, and live video chatting. To start a one-on-one conversations with a user within a chat room, just tap his/her profile name, request for chat, and you're good to go. Camfrog keeps you apprised of chat your recent activities and requests via real-time status bar notifications.
The last tab is displays your Camfrog Profile along with all relevant details. From the same screen, you can change your current status, and sift through the list of users that you've allowed or blocked on the network.