Charm For Android Suggests Gifts, Calls & Text Reminders For Contacts
We all care about our relationships but our busy routine might distract us from contacting and/or expressing our sentiments towards the ones we love the most. What if your Android device could lend some assistance in this regard? Say hello to Charm – a special Android app for your special contacts. Charm for Android vows to become your personal assistant when it comes to reminding you of interactions with your contacts. Using Charm, you can specify a relationship status for each individual contact, and decide whom you wish to contact via calls, texts and mails, and exactly how often.In addition, the app can also prove to be quite effective in suggesting appropriate gifts for your contacts based on the personal interest and preferences of each. Depending upon the type of relation, the app also helps you with composing your mail and text messages via relevant template suggestions. All you need to do is specify required settings for each individual contact from your address book, and let the app help you with all the event reminders and gift/activity suggestions via status bar notifications, so that you never miss out on celebrating a special occasion with your loved ones in a hurry.
The app's homescreen lets you add all your important/special contacts from your address book. Each added contact appears as a separate tile on the homescreen. Tapping a tile will take you to another screen, from where you can specify all the aforementioned interaction settings for that particular contact. To modify the settings, tap the wrench icon at the top-right side of the screen.
On the screen that follows, you have the option of setting the conversational tone for your message templates (from casual to formal). Moreover, you can set the relevant relationship status, contact frequency, and price range for the suggested gifts. You can also adjust various suggestion settings for the text messages, mails, gifts and calls.
Once you help the app learn about specific interests of a contact, it then comes up with handy gift suggestions based on the user-defined price range. In this regard, you have the choice of picking from various common hobbies and pastimes. To get gift recommendations according to the selected interest, tap the gift icon at the top of the contact screen. Pick your preferred gift from the list of suggested items, order it directly via the online vendor, and get it delivered right to the recipient's address.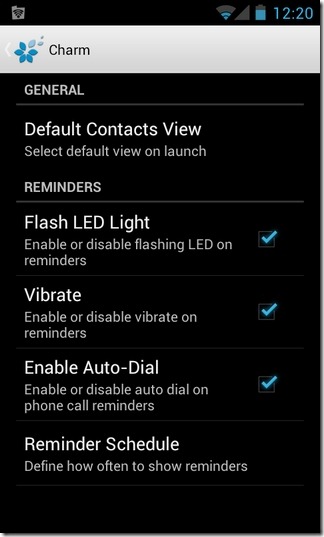 From the app's settings screen (tap Menu > Preferences) you can set the default view for contacts (Grid/List), set the reminder schedule, enable/disable the auto-dial option with call reminders, and modify other reminder settings.
All in all, Charm could be lauded as a useful companion that keeps you reminding that you have someone else to care for apart from your hectic work routine.
Download Charm for Android (No longer available at Google Play Store; AndroidZoom link added for direct download.)