Check Domain Name Availability On Android With Domain Whois
The magical wide world of web has really transformed the way we're used to thinking, living and dealing with routine business matters. There are a whole lot of possibilities available to people nowadays to reach out to masses through the economical means provided by the internet. Whether you're contemplating launching a website for your newly started business, want to start an online shopping cart, set up a web based system for your organization, or wish to join the blogosphere by launching your very own blog, you'll need to first register for a new domain. By getting yourself a domain, you'll be able to give your website some sort of an identity. That having said, each day thousands new domains get registered over the web through various services, and chances are quite likely that whatever domain name you're targeting has already been reserved or in use. Domain Whois is one such service that has been helping web users search and lookup for availability of their preferred domain names with ease.  Looking for a quick way to check the availability of a domain right from your Android device? May be Domain Whois can help. With Domain Whois, you can easily check out whether your preferred web domain is available for sale or not. This Android app supports almost all the popular Top Level Domains (TLDs) known to-date and comes across as a handy solution for individuals and corporations that frequently need to check availability of multiple domains for their new online ventures.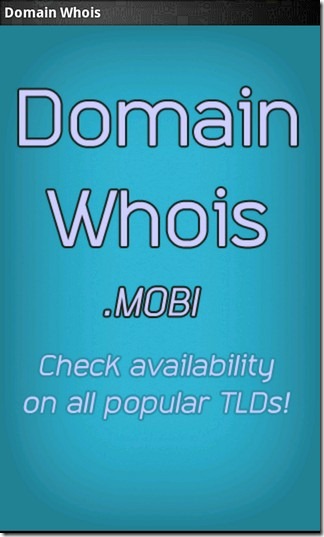 Interface of the app is fairly simple while its usability is restricted to just checking availability of domains and nothing else. The app opens to a splash screen that leads to a solitary search bar where you can feed in your preferred domain and check whether it is available or not. Once you're done with the address, the app retrieves information from its online server and displays a list of all the domains that are already in use or available for procurement. Supported extensions include:
.com
.net
.org
.mobi
.info
.eu
.nl
.be
.de
.me
.biz
.name
and more…
Needless to say, the app's capabilities can be enhanced manifold by adding native support for applying for domain name registration. In addition, the app can be made more supportive by adding the auto suggest feature to the mix. That means, if your query doesn't fetch any fruitful results, the app can lend help by suggesting some relevant matches.
Download Domain Whois for Android