ChevronWP7 Unlocks Windows Phone 7 Handsets Easily
Got yourself a Windows Phone 7 device but not too happy with all the restrictions Microsoft decided to add to their latest smartphone operating system? We have some great news for you! WP7 developers and hackers Rafael, Chris Walsh and Long Zheng have released the first user friendly unlocking application for all Windows Phone 7 handsets, called ChevronWP7. Unlocking your Windows Phone 7 device is essential if you are looking to sideload experimental applications which access private or native APIs.

When Microsoft released Windows Phone 7, pretty much everyone who tried it out was delighted with the awesome new Metro user interface of the OS but seasoned and advanced users – especially those coming from a Windows Mobile background – were disappointed to find out that Microsoft had employed Apple-like restrictions in its latest mobile OS, making previously possible actions like browsing the file system or installing apps using their installer files impossible. Luckily, with ChevronWP7, all those restrictions should be history now for those who want to get rid of them.
In our opinion, this incredible achievement can open door for further developments in gaining complete root / jailbreak access to Windows Phone 7 handsets. The application requires you to have no coding knowledge for unlocking your Windows Phone 7 handset. All you need to do is to grab the ChevronWp7.exe file, connect your phone to the computer, and execute the application. Next, follow the simple on-screen instruction to unlock your WP7 device.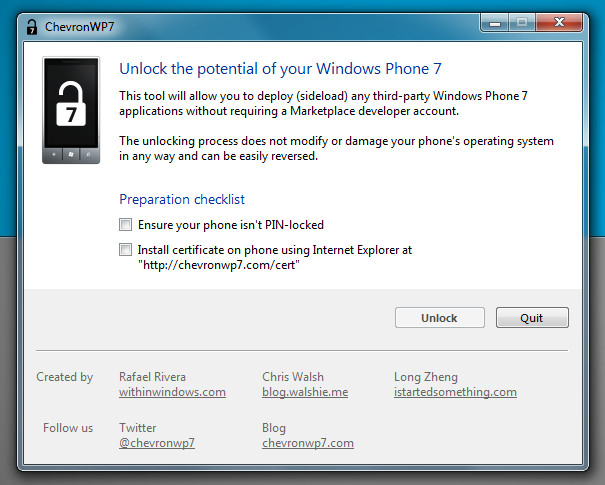 According to the developers of this hack, the process is completely safe and reliable. It not only allows you to unlock your Windows Phone 7 handset, but also relocks it if required, in case you need to return the device later on, or get it fixed or replaced in warranty.
Upon unlocking, you can side-load different apps directly to your phone from their XAP files, without having to go through the Windows Phone Marketplace. This unlocking may also lead to the possibility of easily unlocking the phone's bootloader and installing custom ROMs.