Clockwork Recovery 3 Available Now For Nexus S
The latest version of the popular ClockworkMod Recovery is available now for the Samsung / Google Nexus S. In case you are a proud owner of the flagship Android 2.3 Gingerbread device, you can grab it right now from ROM Manager. Apart from the color change to orange from green, this version comes with few other changes to the looks, but several under the hood.
ClockworkMod Recovery – the popular custom recovery for Android devices – just saw its v3 release.  The first thing you'll notice here would of course be the colour change, from the old green of version 2 to a bright orange for 3. There is also the *****Go Back***** option added to each menu, enabling you to return to the previous menu without having to press the back key, adding a little more convenience in use. While we would have loved it if all the wiping options (for data, cache, dalvik cache, other partitions and battery stats) were integrated into a single menu, unfortunately it hasn't happened so we'll all still have to live with having to navigate to these in their specific menus and sub-menus.
The under-the-hood changes include performance optimizations as well as support for flashing stock as well as custom ROMs based on the latest version of Android 2.3 Gingerbread.
Disclaimer: Flash any non-official ROM or Recovery to your device at your own risk. AddictiveTips will not be liable if your device gets damaged or bricked during the process.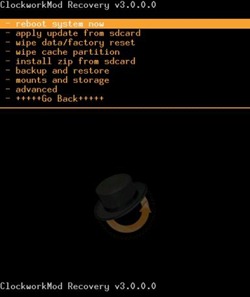 Presently available only for the Nexus S ClockworkMod recovery can be installed from ROM Manager for rooted devices. If you haven't rooted your device yet, you can follow our guide on rooting the Nexus S. In case you don't have ROM Manager, you can grab it from the Android Market for free. To install the latest ClockworkMod Recovery, launch ROM Manager on your device, tap 'Flash ClockworkMod Recovery' and follow the on-screen instructions.
You can also install it manually or using alternative methods, by following the 'Installing ClockworkMod Recovery' section of our detailed ClockworkMod guide. For installation using these alternative methods, you must have the recovery image, which can be downloaded from the link given below.
UPDATE: There have been several updates since this post and ClockworkMod recovery 5.8.* is now available for Nexus S and several other phones in both standard and touch interface options. The download page and installation instructions remain the same. Just make sure you grab the version for your particular phone model if going for the manual installation method.
Download ClockworkMod Recovery Image for manual installation