CloudMagic Releases Its Mail & Twitter Search Client For Android & iOS
Whether you're a businessperson, a student or a casual web user, chances are that you often find yourself swarmed by plenty of emails, contacts, online documents, calendar events, social activities, and so on. Surely, with the consistent flow of information from so many various sources, it becomes a tad difficult to recall and pluck something at the time of need. CloudMagic is a cross-platform online search tool for Gmail, Google App accounts, Google Docs, Events and Contacts and Twitter that claims to fetch you required content from multiple accounts in just a few seconds through its handy web extension for desktop browsers as well as the recently introduced smartphone client for Android and iPhone.
Through its simply designed UI, real-time search suggestions, one-tap content filtration, voice search support and a handy little homescreen widget, the official Android client of CloudMagic easily qualifies as one of the most convenient personal content searching tools out there. Searched content can be previewed from within the app, and/or opened via a compatible app.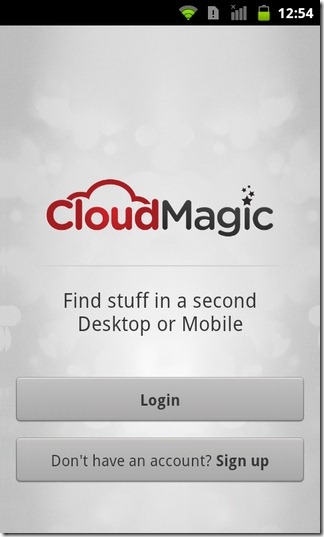 Only registered users have access to the app's content. Signing up for a new account is simple and free. All you need to do is hit the Sign up button on the app's welcome screen, feed in your email address and password, and you're good to go.
If you're using the service for the first time, you'll need to associate a few (or all) supported cloud service accounts of yours with the app. For this, select a required service from the Add Service screen, or Menu > Settings > Add a new service from the app's homescreen, and provide your account info. The Manage services option on the settings screen can be availed to select/deselect various supported services from the accounts that you've added to the CloudMagic list. For instance, you may opt to include your Google Calendar events within the app's search criteria, but exclude scanning mail from your Google account.
Once all accounts have been set up, the app is ready to help you with finding virtually anything that exists on the records list any of the included/supported services. To help you input your query via text or voice, the app's homescreen provides you with a search bar that carries a text input field and voice input. Search results are displayed on a real-time (as-you-type) basis. To filter search results, hit the CloudMagic icon in the top-left corner of the screen, and set the search results screen to display only Mails, Events, Docs, Contacts or content from Twitter.
As mentioned earlier, the app also sports a widget, which not only lets you input vocal and textual queries right from the homescreen, but also displays a list of your most recent searches.
Although Facebook is not currently listed among the supported services, the developer promises that it will be added soon. It would be nice to see support for LinkedIn and mailing services other than Gmail added to the app as well.
Download CloudMagic for Andriod
Download CloudMagic for iPhone, iPad & iPod touch
Update: The app has been updated in the Google Play Store to include the aforementioned Facebook support, along with support for several other services, including AOL, Box, Dropbox, Evernote and GMX etc. Moreover, besides getting revamped with a Holo-ish look, CloudMagic for Android receives the 'snapshot view' feature that allows you to instantly preview whatever content a specific file is holding.