CyanogenMod 9 ICS ROM For Motorola Milestone [Download & Install]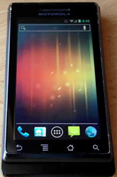 The Motorola Milestone gets CyanogenMod 9! The Milestone has gotten a few ICS ports before, but this time, its CM9 that makes the cut. Android fans are eagerly waiting for one of the best AOSP ROMs out there to hit the full and final version as it rolls out for multiple devices. The Milestone, is the device that put Motorola right back into the competition and seeing CM9 being ported to the device is truly something deserved. However before you get too excited, the ROM is and Alpha version right now and comes to you courtesy of XDA-Developers kabaldan.
The ROM is based on Android 4.0.3 and is not meant for daily use. Here are a few important things you should know before proceeding to trying this ROM out.
Until the open source solution will be ready, Google builds of Calendar and CalendarProvider are installed via gapps to provide Google Calendar sync. Google build of LatinIME is included to provide access to downloadable dictionaries.
Most of the gapps are installed to /data/vendor. if you are updating from earlier CM9 build, use "rm -r /system/*" in recovery console before installation to make sure you don't run out of space in /system because of previously installed gapps.
Boot animation is disabled (debug.sf.nobootanimation=1 in build.prop), because the default boot animation takes more than 80MB of RAM while running, which may cause issues – from very long boot time to bootloops.
Disclaimer: Please follow this guide at your own risk. AddictiveTips will not be liable if your device gets damaged or bricked during the process.
Requirements:
Instructions:
Extract Open Recovery 1.46 zip file and copy OpenRecovery folder and Update.Zip to the SD card.
Copy the ROM and Google Apps in SDcard\OpenRecovery\updates.
Power off your phone and then power it back on while pressing the X button on the keyboard. Hold X till you see a triangle with an exclamation mark in it, and then let go of the X button.
Now hold the volume Up button and press the camera button. You'll be taken to Android System Recovery <2e>.
Using D-Pad as cursor and the golden button in the middle as Enter, select Wipe Data/Factory Reset and Wipe Cache Partition.
Once done, choose apply SD card: update.zip.
You will be taken to Motorola Milestone Open Recovery Version 1.46.
In the menu, navigate to Nandroid > Backup All to make a backup of your current ROM.
Again select wipe data/factory reset followed by wipe cache and wipe dalvik cache.
Navigate to Apply Update and choose the MIUI ROM. Do the same for Google Apps.
Go back to Main Menu and select reboot system.
The first boot will take sometime so please be patient.
For updates and queries, head over to the forum thread at XDA-Developers.