Connection Planner: Schedule Profiles For WiFi, GPS & More [Android]
Connection Planner is a simple yet very useful Android app that lets users schedule and lock status of various connections or profiles for Wi-Fi, mobile data, Bluetooth, GPS as well as airplane and silent mode. By automatically disabling/locking Bluetooth and GPS as per scheduled timings, not only can the app save you quite a few minutes (or even hours) of battery life, but also prevents any apps from using these connections without your permission. Similarly, by automatically activating silent/airplane mode on your device, Connection Planner saves you from the hassle of toggling these profiles manually while you're at work or travelling.
Using Connection Planner, you can set multiple profiles for each of the aforementioned settings as per your requirement. Each custom profile can be activated for a particular day or the entire week. Likewise, you may pick specific timings of a day to trigger each profile automatically or keep it activated for the entire day.
Scheduling custom profiles and activating various controls from within the app is as simple as it gets. On the app's homescreen, you have all the aforementioned controls arranged in separate tiles. The checkbox in each tile adds/removes an item to/from the scheduling mechanism. The lock button, if activated, prevents external apps from accessing or activating that particular setting. The button in the middle of each tile can be used to manually activate or deactivate each item, while the settings button takes you to its configuration screen from where you can easily set a preferred schedule for it.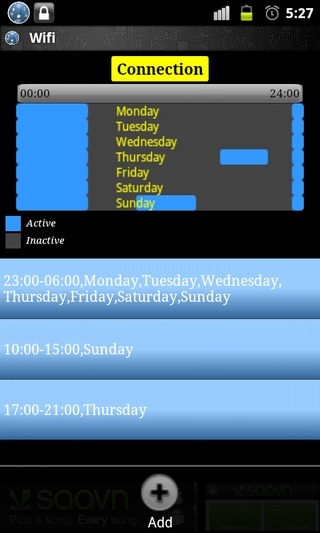 On the settings screen, you can tap Menu > Add to create a new custom profile and assign desired days/timings at which you want it to be activated automatically. Once that is done, tap the save icon at the bottom. This will return you to the settings screen, where you may notice a mini calendar that indicates the days/instances for which the profile would remain Active or Inactive.
Once you've specified all the various settings under each required profile, all you need to do is activate Connection Planner from its homescreen.
Apart from reminding you of the app's status via a notification bar icon, Connection Planner adds its own panel within the notification drawer, which keeps you apprised of what controls are currently activated/inactivated. Life would've been even simpler had the app let you toggle required controls from within this panel. You can, however, tap it to launch the app.
From within the app's settings menu (Menu > Settings on the app's homescreen) you can set the app to play a sound whenever a custom profile is activated and permanently disable profile settings for a specific item if it is manually modified by the user either from the device's settings menu or from within another application.
Download Connection Planner for Android