Control VLC Media Player from your Android Device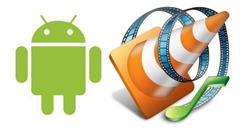 Sometimes you're sitting in a warm cozy bed, watching a movie on your big LCD Monitor placed alongside your PC at the other end of the room and the volume dies down or for some reason you need to pause it, what do you do? You get up, go all the way to the PC and do the necessary adjustments. However, as long as you're using VLC Media Player and have an Android device connected on the same network over WiFi, you can use a remote control app for VLC player and control it while in bed, all from your Android device.
VLC Media player offers many remote control interfaces and one of them is the Web Interface. This grants remote control access to any computer/device connected across the same network.
What you'll need :
VLC Remote App for your Android device. [Link given below]
VLC Media Player on your computer. [Link given below]
WiFi Access for the Android Device over the same network as the PC running VLC Media Player.
How to :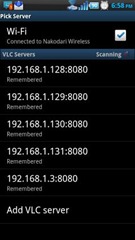 In case you don't already have it, download and install VLC Media player on your computer.
Download and install VLC Remote from the Android Market.
Launch VLC on your computer.
Goto View > Add Interface > Web Interface.
Make sure that port 8080 is allowed by your firewall.
Open up VLC Remote on your Android device & goto Menu > Settings.
Look for your computer's IP address on the available list of servers & tap on it. [Add your IP Manually if the automatically generated list does not have it.]
After you connect to the IP of your computer, VLC Remote will instantly sync with your VLC Media Player and give you complete control of your player.
VLC Remote also gives you basic level control in terms of choosing the media to play from your home folder [Default: My Documents] & Full Screen toggle etc. To wind things up, we would like to mention the most brilliant feature of the application: if you get a phone call while you're watching a video or listening to music and VLC Remote is connected, the app will automatically pause the playback and resume it automatically as soon as the call is ended.
Install VLC Remote App from Android Market