Cool Tool For Android Displays System Info On An On-Screen Panel
Curious to find out how your Android device fares with all the various apps and processes running on it simultaneously? Cool Tool is a free yet extremely handy system monitoring app for Android that displays usage of various resources of your device on a customizable and movable on-screen panel which remains visible regardless of what screen you navigate to. Ranging from CPU/RAM usage to network traffic, battery status and more, Cool Tool keeps a tab on some of the most significant hardware/software aspects of your device and lets you modify display settings for each accordingly. Apart from toggling the display of multiple parameters on the panel, you can show/hide the panel as you like and opt to keep it running in the background as well as upon device reboot.
On the aesthetics front, all the app has to offer is a solitary homescreen that carries various configuration options for its panel. While on said screen, you may specify the update frequency and the Draw Chart that graphically displays a selected parameter (CPU/RAM Usage, CPU Clock or Network Traffic). In addition, you can pick from other miscellaneous information that you want the app to display on the panel including CPU Load/Frequency, Available Memory, Time, Battery and/or Network Traffic. For the panel's Network Interface, you have the choice of displaying data usage information of your mobile network or that of both the mobile network and Wi-Fi. You can also specify the Maximum Network Bandwidth limit (in KB/s) to monitor; handy while using EDGE or limited mobile data plan.
Disabling the Drag'n'Drop Window option on this screen locks the panel at a selected position while doing the same for the Snap To Edges option restricts the panel movements to just the edges of your screen. For better readability, various display settings of the panel such as Additional Width, Font Size and Text and Background Opacity can be modified as well.
The app works perfectly on rooted/unrooted devices as well as in landscape and portrait orientation. So, if you are concerned about the slow performance of your device or the hefty phone bills you've been getting due to unknown data usage, then Cool Tool could prove to be pretty handy for you.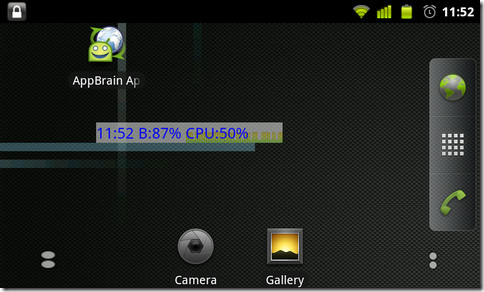 A short demo video of Cool Tool is provided below.
Cool Tool is available for free in the Android Market and can be downloaded via the Market link provided below.
Download Cool Tool for Android